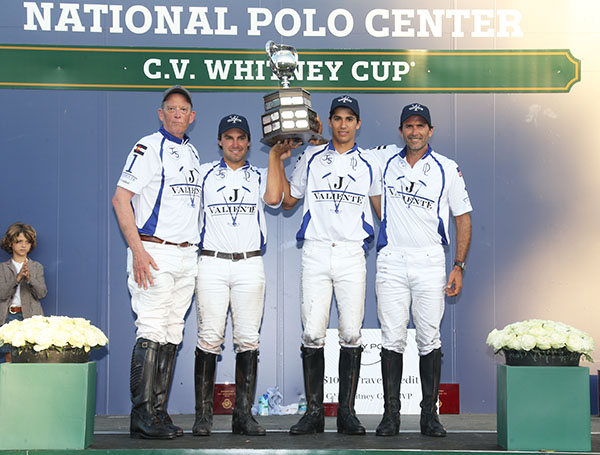 On Sunday, Feb. 26, the first leg of the Gauntlet of Polo came to an exhilarating conclusion with the C.V. Whitney Cup Final. The elite competition pitted 2022 USPA Gold Cup and U.S. Open Polo Championship winners Pilot (Curtis Pilot, Lucas Escobar, Matias Torres Zavaleta and Facundo Pieres) against four-time C.V. Whitney Cup winners Valiente (Robert "Bob" Jornayvaz, Lucas "Luckitas" Criado Jr., Mariano "Peke" Gonzalez Jr. and Adolfo Cambiaso).
Both teams hustled throughout the game to make every shot, penalty and play count, but in the end, a successful late drive from Gonzalez gave Valiente the edge, while several missed opportunities from Pilot ceded the narrow 10-9 win to their opponent.
Entering the final, both Pilot and Valiente remained undefeated. Their paths to the title match, however, were strenuous, particularly for Pilot. Prior to the C.V. Whitney Cup, Matias "Colo" Gonzalez sustained a hand injury and was replaced by Escobar, altering the team structure right before the competition began. Escaping from Scone with the 13-12 win, Pilot also won by a single goal against Dazos 10-9 and then again one-upped Shack Attack in the semifinal 12-11 to narrowly earn a place in the final.
Valiente's wins over La Elina and Aspen were much more decided in bracket play, but Park Place presented a formidable battle, with Valiente only outscoring them 12-10.
Cambiaso was noticeably absent in the semifinals due to a family emergency, and his nephew Camilo "Jeta" Castagnola played in his place.
At the outset of play, Pilot's Pieres catapulted his team to a quick start, converting two penalties and driving to goal once from the field. His efforts were met with a response from both Gonzalez and Criado, who were eager to shift momentum in Valiente's favor. Their endeavors were rewarded with a second chukker shutout for Pilot, during which Criado scored again from the field and then twice on Penalty 2 conversions to give Valiente a 5-3 advantage.
As the third chukker began, Criado took advantage of another Penalty 2 opportunity, but a tenacious Pieres evened out the scoring with a field goal to end the half with Valiente leading 6-4.
After the break, the remainder of the game was largely decided by penalties. Pieres scored once from the penalty line and once from the field, but those efforts were matched by Gonzalez and Cambiaso, who both scored from the line. Pieres and Criado traded penalty conversions in the fifth chukker as well, with Escobar scoring the only field goal of the chukker to keep Pilot within one goal of Valiente, 8-9.
An early Penalty 4 off of Pieres' mallet tied the game 9-9 in the final chukker, but a dexterous goal from Gonzalez propelled Valiente back into the lead. Pilot battled fiercely throughout the entire chukker but couldn't find their way to the goal. As time expired, Valiente firmly held the 10-9 lead to emerge with their fifth C.V. Whitney Cup victory.
Jornayvaz, who returns to high-goal polo after several years out due to health concerns, was elated to just be able to compete again. "The fun part is getting to play against one of your best friends in life — Curtis [Pilot]. I hope it was a fun game to watch. It was a really fun game to play in, fast and open. I can't say enough good things about the Pilot organization," he said.
For his impressive performance and game-winning goal, Peke Gonzalez was awarded Most Valuable Player. Carpacho, Gonzalez's 10-year-old Argentine bay gelding, was presented Best Playing Pony honors.
For Valiente, this is just the start of their Gauntlet crusade. Equipped with the skill, teamwork and horsepower to dominate the competition, the team stands a lasting chance at capturing all three jewels to emerge as the first Gauntlet champions since Pilot in 2019.