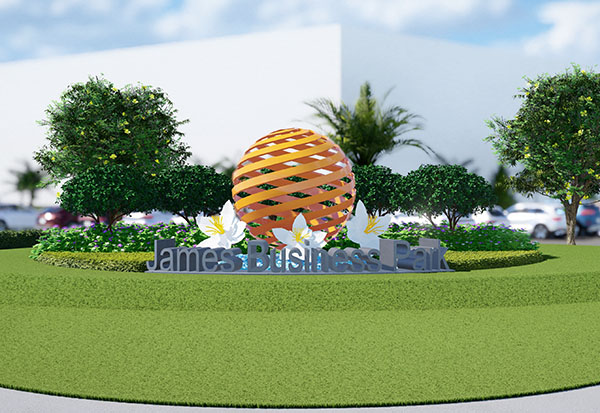 James Business Park is "setting the bar incredibly high" for all businesses that will follow Westlake's first Art in Public Places project, agreed members of the Westlake City Council, who approved the design at their Tuesday, March 14 meeting.
"I'm beyond impressed," Mayor JohnPaul O'Connor said. "They did an incredible job. I love it."
"It looks amazing," Vice Mayor Greg Langowski added.
Resting on a plateau and pedestal, the metal "Orange with Three Blossoms" sculpture will stand approximately 12 feet tall at the corner of Town Center Parkway and Persimmon Blvd.
The plan also calls for small ligustrum trees behind the art to create a green barrier, flowering shrubs lined up in front for a layered affect, and large palms to provide scale, according to the plan provided to the council by Donaldson Hearing of Cotleur & Hearing Landscape Architecture. Blue rocks will decorate the base of the sculpture.
O'Connor said he was impressed by the "intentionality" of the proposal, which represents a pealed orange with three blossoms and 39 anthers. The state flower of Florida is the orange blossom, and Westlake was incorporated out of the former Callery-Judge orange grove property in 2016, becoming Palm Beach County's 39th municipality.
Jamlyn Supply Inc., which purchased the nine-acre site in December, "wanted to make sure it had meaning," Hearing explained.
The $200,000 piece was designed by West Palm Beach artist Ralfonso, who has specialized in "environmentally interactive, kinetic and light sculptures" since 1980, according to Hearing's presentation. "Since 1999, he specializes in the design and execution of large to monumental kinetic and light sculptures for public places," Hearing added.
Under Westlake's Art in Public Places ordinance, businesses must either spend a percentage of their construction budget to create a piece of art for display or pay into a fund that will do so.
Hearing noted that Jamlyn spent twice the amount required under the ordinance.
"They're excited to do it. They're excited to be part of the City of Westlake," he said. "I think this is setting the stage and expectations for all future art that comes after us."
The council approved the project 5-0.
Hearing also noted that Jamlyn is scrapping plans to build out the 145,643 square feet of commercial space in phases and instead will construct a 10,103-square-foot office flex building and a 135,540-square-foot warehouse distribution facility at the same time. The entire space is already leased, he said.
The business park is expected to be completed in spring of 2024, City Manager Kenneth Cassel said.
The James site is adjacent to the Publix at Westlake Plaza, currently under construction, where Jamlyn has leased a 3,600-square-foot retail storefront for its first brick-and-mortar store, Aubrey's Pet Supplies.
Meanwhile, the 50,000-square-foot Publix grocery and liquor store and the 76,510-square-foot Pinnacle Self-Storage facility, both located on Seminole Pratt Whitney Road, are expected to be open by May, Cassel said.
Pinnacle will feature a three-story, limited-access structure, along with six one-story multi-access storage buildings and an outdoor storage area of 0.71 acres for boats and recreational vehicles.
In other business:
• The council voted 5-0 to approve the final reading of an ordinance to limit "sexually oriented businesses," setting distance requirements from other such businesses, schools, houses of worship, parks and residential neighborhoods.
It is unconstitutional for municipalities to enact outright bans on such businesses, City Attorney Donald J. Doody has explained in the past. However, this ordinance effectively limits such businesses to a narrow section of Seminole Pratt Whitney Road at the north end of the city.
• The council approved an agreement with the Westlake Residences Master Homeowners' Association Inc. for use of the lodge building at the Westlake Adventure Park amenity center for council meetings.
"I've seen the facility, and it's absolutely beautiful," O'Connor said. "It's going to be a lot easier for residents to come."
The Adventure Park is located at 16604 Town Center Parkway North. It features plenty of golf cart parking, O'Connor noted.
Cassel said that the council's first meeting at the lodge will likely be in June.
• The council agreed to host a Spring Festival on Saturday, April 8. The event will take place in the large lot off Kingfisher Blvd. between Town Center Parkway North and South. It will feature an egg drop from a helicopter, prizes, music, face painting and food trucks.
The entire cost of the event is being covered by sponsors, O'Connor said, noting that the city has committed to supporting four such events per year. Next up in July will be FourthFest, celebrating the Fourth of July with vendors and a fireworks show.
• The council moved its April meeting to Wednesday, April 26 at 6 p.m. At 5 p.m., council members and Seminole Improvement District supervisors will meet in a joint workshop session. Both meetings will be held at the council's current chambers at 4005 Seminole Pratt Whitney Road.