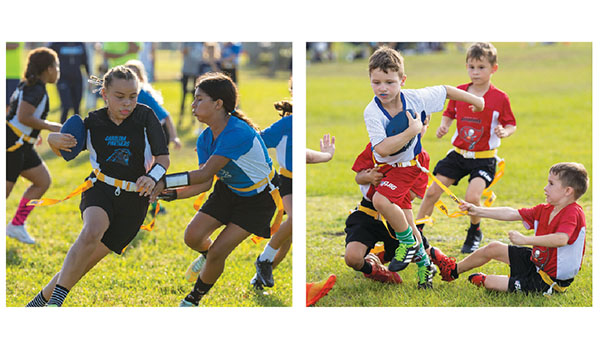 Saturday, April 1 marked the opening day of play at the Breakthru Athletic League's spring flag football program. A total of 25 games were played on the fields at Seminole Ridge High School.
According to Breakthru Athletic League spokesperson Matt Green, the opening day of play was a great success.
"We have 43 total teams — 22 boys and 21 girls — and all teams played on opening day," Green said. "Overall, we had a great time at our opening day and got to see some truly amazing plays being made. It's always such a joy to get to see the kids take the field for the first time each season, after they've been putting in the practice time to prepare with their teams."
To expand interest and participation in the league, registration was modified.
"A new feature that was added to this season for the high school division was that players could form their own teams and register as a team, rather than individuals who are then drafted onto teams," Green explained. "We did also accept individual registrations at the high school level for any players wanting to join who didn't have a team."
The regular season will conclude on Saturday, May 13. After that, there's an end-of-season tournament on the weekend of May 20-21.
If you are unable to actually attend the games in person, fans and family members can now follow the action on their electronic devices.
"We've established some new features for our league this season that we hope will help to make it more enjoyable for all," Green said. "They include a league YouTube channel that will host a variety of videos and a game of the week feature where we will highlight and livestream one boys and one girls game each weekend. The full game video will then be hosted on our YouTube channel."
For more information about the Breakthru Athletic League, visit www.breakthruathleticleague.com.