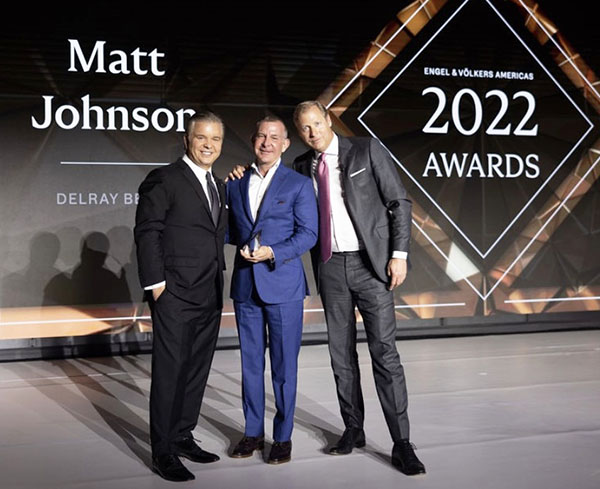 Matt Johnson ranks 11th out of 6,438 real estate advisors in the United States and Canada in the Engel & Völkers Americas Network.
Johnson recently was internationally recognized for his outstanding production in 2022 at the company's North American conference held at the Fontainebleau Hotel in Miami Beach during the second week of March.
Engel & Völkers Americas announced Johnson's accomplishment as a recipient of the Top Producing Advisor Award, which is presented to Engel & Völkers advisors who achieved the highest net commissions and sides closed within their international network in the 2022 calendar year. Johnson closed more than $100.6 million in sales this past year as a private office advisor, an elite group of advisors within the brand.
"Matt exemplifies what it means to be a true real estate leader and sets an unprecedented standard of service, which is evident by his outstanding accomplishment," said Anthony Hitt, president and CEO of Engel & Völkers Americas. "We are very proud to have such a high caliber real estate professional as Matt in our Engel & Völkers network. Year after year, he has been one of our best producers."
Johnson said that he is honored to receive this prestigious recognition.
"It's with great passion that I guide my clients as they embark on buying or selling one of their largest assets, a home or equestrian property. I am truly proud and honored to be recognized as a leading real estate professional within our network in the Americas," Johnson said. "My goal has always been to provide an honest and tailored service that exceeds my clients' expectations. I'm truly thankful for their continued trust in me over the last 24 years, and I'm excited for the years ahead."
Engel & Völkers is a global luxury real estate brand. Founded in Hamburg, Germany, in 1977, Engel & Völkers draws on its rich European history to deliver a fresh approach to luxury real estate in the Americas with a focus on creating a personalized client experience at every stage of the home buying or selling process for today's savvy homeowner. Learn more at www.evrealestate.com.