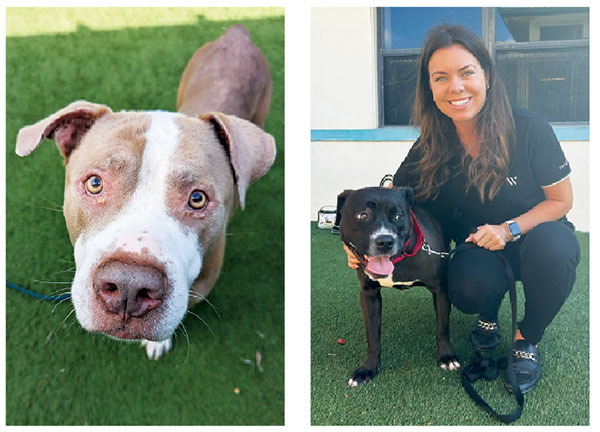 Once again this year, the Women of the Wellington Chamber of Commerce are working with Palm Beach County Animal Care & Control to help find homes for shelter pets.
The initiative began in 2016 when Michela Green, executive director of the chamber, adopted a dog from the county's shelter.
"It really opened my eyes to how amazing the Palm Beach County shelter dogs are, and how much the people who work there love them, care for them and try to enrich their lives," Green said.
And that's how the Women of the Wellington Chamber, a subset of the Wellington Chamber, began its special annual campaign, "Clear the Shelter."
"Sometimes I feel like our county shelter gets a bad reputation, and it's absolutely outstanding," Green said. "I wanted to encourage people to go there in person and see what it's like and meet these dogs."
In general, the chamber is bringing awareness to the many animals that need a home. This year, they're placing a special emphasis on the dogs at the Animal Care & Control shelter.
Over the last two weeks, many members of the Women of the Wellington Chamber have come to the county's shelter, as well as Barky Pines Animal Rescue & Sanctuary, to meet the dogs and record short video clips where they introduce various dogs in need of a home. Green is expecting at least 50 dogs to be highlighted in this year's video series.
"Because we film with them, we get to know their personalities. These are the best dogs, they're friendly, outgoing and sweet," Green said. "It's just amazing to see these dogs that are just waiting patiently for their homes."
The videos — just a few minutes long at most — are being shared within the chamber members' networks.
"These videos are being shared everywhere," Green said. "We're boosting them, we're sending them out on Facebook. We're sharing them with all of the different communities."
Animal Care & Control is over capacity right now with more than
200 dogs for 144 kennels, so the more people who see the videos, the better.
Because of the overcrowding, through the end of April, the county is waiving adoption fees. The dogs come spayed or neutered, with their vaccinations and their county tag, microchip and rabies vaccine. They are also started off with a small bag of dog food and a free vet visit with participating veterinarians.
Melanie Perazzo, public relations specialist at Animal Care & Control, added that fostering is also another way to help, which opens up space for another dog in need.
If you aren't in the position to have a dog long term, there are fostering opportunities available through Animal Care & Control. All of the supplies — food, leash, collar, crate and preventative medicines — are provided.
"They just provide the love to the animal," Perazzo said.
The logistics of having a dog aren't as difficult as they might have been in the past. With neighbors and friends, and many dog care businesses, it's possible to have someone available to walk your dog during the day.
"There's a big misconception that you can't have a dog if you work," Green said. "The dog is just as happy sitting in your house, in the air conditioning, watching TV or listening to music or just hanging out in his bed until you get home as he is sitting in a kennel that's severely overcrowded."
Animal Care & Control and Barky Pines have plenty of friendly, caring, loving dogs who are just waiting for a forever home.
Most of the dogs, Perazzo said, are strays or surrenders due to finances or moving.
And working with the chamber has helped many dogs find their forever home.
"It means a lot to do this with the chamber," Perazzo said. "We're able to promote our animals, network them to different audiences, which is a great opportunity to them."
In just one week, six of the featured dogs were adopted and one was fostered.
The dogs, Perazzo said, are all sweet and well socialized.
"One thing that we do like to explain to people, is that Palm Beach County Animal Care & Control is the only open-admission shelter in the county," she said. "We have to take in any animal that comes to us, regardless of medical condition, behavior, if we're at capacity. We still have to take in those animals because we are technically their last resource. We are that resource for the community. Other resources, or other shelters, can stop allowing animals coming in."
To meet one of the many dogs available for fostering or adoption, Perazzo suggests coming in during viewing hours: Monday to Friday, noon to 6 p.m.; Saturday, noon to 5 p.m.; and Sunday, noon to 4 p.m. In order to adopt, the head of the household needs to be present.
They have dogs of all activity levels, are friendly with children and friendly with pets. Kennel techs, Perazzo said, will help if there's a certain dog in mind, but "we always say, let the dog or cat pick you."
On Thursday, April 27, the Women of the Wellington Chamber is holding its Pooches, Pearls & Prosecco event, with a fashion show, boutiques, restaurants and other showcases, where the goal is to help more dogs to get adopted. To participate, you have to be a guest of a current member of the chamber, as only 50 to 75 people can attend the event.
"If you do have room in your home, and do have room in your budget to have a pet, there's a dog for every shape, size, person, personality, family, everything," Green said.
To learn more about the animals available for adoption or foster, or volunteer opportunities, visit www.pbcgov.org/animal or call (561) 233-1200. Businesses and organizations interested in helping promote the animals available for adoption can call and request more information.
The county's shelter is located at 7100 Belvedere Road, just west of Florida's Turnpike.