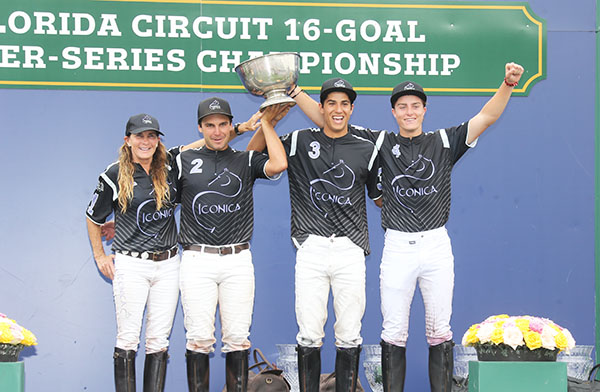 The first Florida Circuit 16-Goal Super-Series Championship came to an electrifying conclusion on Sunday, April 9 at the National Polo Center-Wellington. The title match brought together the dominant Iconica team (Maureen Brennan, Mariano "Peke" Gonzalez, Lucas "Luckitas" Criado and Santos Merlos) and late competition qualifier La Fe (Rufino Merlos, Robi Bilbao, Francisco Elizalde and Louis Devaleix). Generating an early lead in the second chukker, Iconica kept their eyes on the prize and never wavered, maintaining the lead throughout the remainder of the game to grasp a triumphant 14-11 victory.
An innovative and unique addition to the Florida winter season, the inaugural 16-Goal Super-Series offered teams the opportunity to qualify for the championship by winning one of four qualifiers: the Joe Barry Memorial, the Ylvisaker Cup, the Iglehart Cup and the Continental Cup. Making waves early on, Iconica captured the first three trophies, raising the Joe Barry Memorial Cup, the Ylvisaker Cup and the Iglehart Cup. Their wins in multiple qualifiers not only guaranteed them a place in the championship, but also allowed them to advance directly to the championship final.
A strong team throughout the competition, La Fe played in all four of the qualifiers. In the first three qualifiers, La Fe fell in the semifinals. In the Continental Cup, held at the Sarasota Polo Club, La Fe sailed to a 4-0 record and ultimately defeated G-Squared 14-10 to earn their place in the Super-Series semifinal.
In the singular semifinal, La Fe met BTA. Originally, BTA and Dundas were set to compete in a shootout to determine the last semifinalist, as both competitors had been runners-up to Iconica in qualifiers. Unfortunately, Dundas removed themselves from the competition due to a player injury, allowing BTA to advance directly to the semifinal. Both teams performed well, with La Fe ending with the edge, defeating BTA 13-9 to advance to the title match.
"We've played against them a couple times, and we most of the time try to stay to our style of playing," Iconica's team owner Brennan said of La Fe. "They have a very specific style that we obviously have to deal with, but we made changes about two or three times today. Which, I think is a good thing to do as a team, to be fluid and be able to adapt and change as things are going on the field. I think our ability to do that quickly helps us. We always have a Plan A and a Plan B. We went to both of them today."
Gonzalez also noted how his team observed La Fe's semifinal game to better understand their playing style. "We went to the game, and we met yesterday afternoon in Maureen's barn to watch their game again and watch a little bit the last time we played them to see how we were going to prepare the game for today," he said.
Starting with a one-goal handicap advantage, field goals from Iconica's Criado and Merlos offset three from La Fe's Bilbao to end the first chukker tied 3-3. Iconica led the remainder of the game. Between the second and third chukkers, Gonzalez, Criado and Santos Merlos contributed a total of six goals, while La Fe was only able to respond with three from the mallet of Elizalde, keeping Iconica safely in the lead 9-6.
Entering the second half, goals from Gonzalez and Elizalde maintained Iconica's 10-7 advantage in the fourth. Similarly in the fifth, two goals on each side canceled each other out, leaving Iconica ahead 12-9 headed into the final chukker. As time wound down, Elizalde heroically scored twice, one off a penalty conversion and another field goal to bring La Fe within one of Iconica. Determined not to let this final 16-goal match slip through their fingers, Gonzalez and Criado each responded with a field goal of their own. Creating an insurmountable distance between the two teams, Iconica secured the 14-11 victory and inaugural Florida Circuit 16-Goal Super-Series Championship title.
The win solidified an impressive 16-1 series record for Iconica.
"A 16-1 record doesn't come around often," Brennan said. "My ultimate goal was to win this, but I can't believe how we did it. To win three tournaments and then this. I didn't say this to anybody before, but it's like, 'If we don't win today, it feels like that negates everything.' And that's not true but, it would feel that way, so I was like, 'There's no way we're going to lose today.' These guys deserved it."
An unusual format for a tournament, since Iconica did not play in the fourth qualifier, the team went nearly a month without practicing or competing together. This large period of time away from one another makes their dominant performance all the more impressive.
Discussing the last time they played together, the Iglehart Cup Final on Saturday, March 11, and how they used the time in between to prepare individually, Brennan said, "It was four weeks ago, actually. I think March 11 was our last final together as a team. I literally did nothing but practice this entire time. Unfortunately, my three best horses ended up back in the locker room for today. So, I was a little stressed myself, not being as mounted as I normally could be and having that time off. But, as you know, both Peke and Luckitas have been playing with Valiente [in the U.S. Open Polo Championship], so they've been in rhythm. Thank goodness! It has been really helpful. And when Santos went back to Argentina for these weeks, he has been playing the whole time there. As a team, we practiced on Thursday, and that was our only time together as a group since back on March 11."
Brennan also thanked the efforts of Iconica's coaching team, including Sebastian Merlos, Mariano Gonzalez and Francisco Lanusse.
For his five-goal performance, Peke Gonzalez was awarded Most Valuable Player. Francisco Elizalde's Lavinia Magia was presented Best Playing Pony honors.
"Lavinia Magia is a mare that's seven years old," Elizalde said. "She's really handy. I bought her from Salvador Ulloa, who's my brother-in-law. I brought her here this year to America. She played in the East Coast Open, and now she's playing the 22-goal, and I brought her here for this final."
An incredible end to a fantastic first Florida Circuit 16-Goal Super-Series Championship, Iconica's impressive performance will go down in history as an inspiration to other teams. Also paving the way, the overall success of the series offers promise for the future, ensuring the continued development, growth and prestige of medium-goal polo in America.