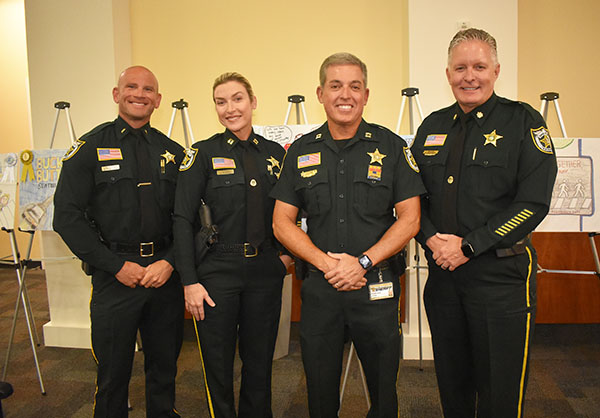 There is new leadership at the public safety agencies serving the Village of Wellington, and the Wellington Village Council meeting Tuesday, April 11 featured the introduction of Capt. Nichole Addazio, the new leader of Palm Beach County Sheriff's Office District 8, which serves the Wellington community.
The council also met new Palm Beach County Fire-Rescue District Chief Amanda Vomero.
Addazio has taken over for retiring Capt. Rolando Silva, who has been working with her during a transitional period.
"We've had the opportunity to work together for the last three weeks, and it has been invaluable," Addazio said of the support she received from Silva.
Transfers, she explained, can happen quickly, and often do not allow for an overlap. This one has. Addazio took over the position on April 1, and Silva will be retiring early this summer.
Silva thanked the council for their support over the past seven years, and also thanked his former second in command, Lt. Eli Shaivitz, who is also moving to another position.
"Thank you, guys. It has been a privilege and a high honor to be here as your district commander," Silva said. "You guys are in good hands, and I can't thank you enough for the last seven years."
Mayor Anne Gerwig called Silva a "true partner" and "fantastic leader."
"I am just happy for you, and know that we're going to be fine," she said. "No one cared more that I've seen serve."
Councilman Michael Drahos said it was a huge honor, and he felt extremely lucky to work with Silva, calling him "a class act."
Vice Mayor Michael Napoleone said Silva is leaving Wellington better than it was when he arrived.
"I thank you for your service to our community, and I thank you for your friendship. We're going to miss you as you ride off into the sunset," Napoleone said. "I know you've left District 8 in good hands."
Councilman John McGovern called Silva "someone who this community could rely on in the good times, and the bad times," wishing him a wonderful retirement.
Village Manager Jim Barnes thanked Silva and the PBSO for their seamless transition, which the village has already experienced with Addazio.
Village officials also had kind words for Shaivitz, who has worked closely with Wellington on many special projects.
"Thank you all for the kind words. It really means a lot," Shaivitz said. "On behalf of the whole District 8, we're grateful for the support we always get from you guys… you're in good hands."
Addazio has been with the PBSO for 25 years, she said, starting as a cadet and working her way through the ranks, first as a civilian, then District 1 road patrol, the organized crime bureau as a gang detective, the special victims unit as a detective and trainer for more than eight years, a road patrol sergeant, an internal affairs sergeant, a gang lieutenant and a watch commander.
At Florida Atlantic University, she studied sociology and criminology before earning her graduate degree.
"I am a long-term Palm Beach County resident, and proud of it," Addazio said. "This is really a full circle moment for me to come back to Wellington."
Addazio noted that she moved to Wellington with her family at age 14. Her parents picked Wellington because it's a safe community with great public schools.
"It is a blessing and honor that I am in this position to sit as the commander in Wellington and ensure that public safety, now with our team at District 8 and working collaboratively with the village," Addazio said. "I really appreciate the opportunity from the sheriff, the trust of the previous command and my current command."
Addazio introduced PBSO Lt. Robert Humphrey, who will be taking over for Shaivitz. He has 20 years of law enforcement experience that started in Greenacres. He was in the street crimes unit, SWAT operator and instructor, general assignment investigator and was a sergeant with Greenacres and the PBSO.
"He is articulate, intelligent, he is personable, he is a go-to person, and I believe he will bring this district up to the level that Eli and Rolando were working at," she said.
A late addition to the agenda, PBCFR District Chief Phillip Olavarria of Battalion 2 introduced new District Chief Amanda Vomero to the council.
She will be taking over, since Olavarria has been promoted to division chief of emergency management.
Olavarria said that he has known Vomero for 22 years.
"We were actually hired together," he said. "She is absolutely the person for the job. She's a Wellington resident. She has been here for about 20 years, and her kids are going to school here."
Olavarria thanked the council for welcoming him into the Wellington family over the last year, and he said he looks forward to working with the council from the emergency management side of things.
Vomero said she is excited to be working with everyone in the Wellington area.
"I have a vested interest in the level of care and the level of service that the residents of the Village of Wellington receive," Vomero said. "I am a resident myself, and I just want you all to be confident and to know the same level of care and same level of service that the residents have always received will continue. I am very confident in this new role that I am taking on, and I am really looking forward to working with everybody."
McGovern noted the historic significance of both Addazio and Vomero joining the Wellington family.
"We would be remiss if we did not note, as we have just departed Women's History Month, we have a female leader of the police, a female leader of fire-rescue and a female mayor," McGovern said. "As the father of two daughters, that is a remarkable thing, and we are excited about it. It is history."
Gerwig further noted that both the village clerk and village attorney are also women.