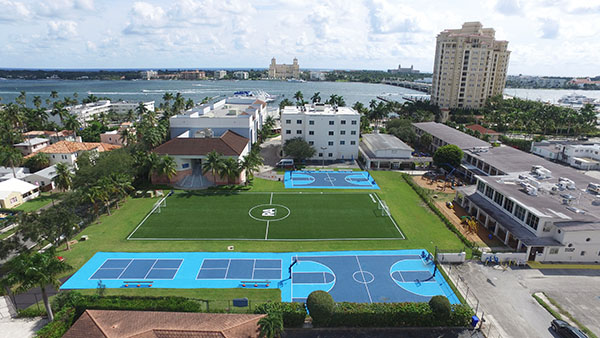 Amidst the steady growth in West Palm Beach, the Rosarian Academy recently took a bold step toward expanding to accommodate the needs of its growing community with the purchase of three properties on North Olive Avenue.
These properties constitute the remaining adjacent properties to its 807 N. Flagler Drive campus. Additionally, the City of West Palm Beach has abandoned the Eucalyptus Street alley that extends east of Olive Avenue and dead ends at Rosarian's campus. With these purchases, the school can now enclose and secure its campus within one contiguous city block between 7th and 8th streets, North Olive Avenue and North Flagler Drive.
"For 30 years, Rosarian Academy's leaders have seen the value in acquiring these properties and have made plans to do so," Rosarian Academy Head of School Dr. Linda Trethewey said. "When the most recent opportunity arose for us to move forward with the purchase of these properties and the abandonment of the alley, decades of experience informed us on our next steps. The timing could not have been more perfect, as the acquisition will allow us to proceed with expansion plans that directly serve our growing community."
The Rosarian Academy, founded in 1925 by the Adrian Dominican Sisters, is a premier independent Catholic school, serving Montessori through eighth grade students in Palm Beach County. Located on Flagler Drive in downtown West Palm Beach, it offers a strong academic program enriched by faith, athletics, visual and performing arts, and community service opportunities. STEM, coding, art, drama, music theory and Spanish classes begin as early as two years old.
"This community has had generations of people who have built the Rosarian Academy into the incredible institution that it is today, and making this moment a reality is the result of the diligence and dedication of many people over the years," said Nicholas Coniglio, the school's board chair. "I am humbled and thankful for the impact their contributions have made on our students today, and I have seen firsthand how the school has nurtured, guided and given my five children opportunities to grow academically, athletically, spiritually and in the arts."