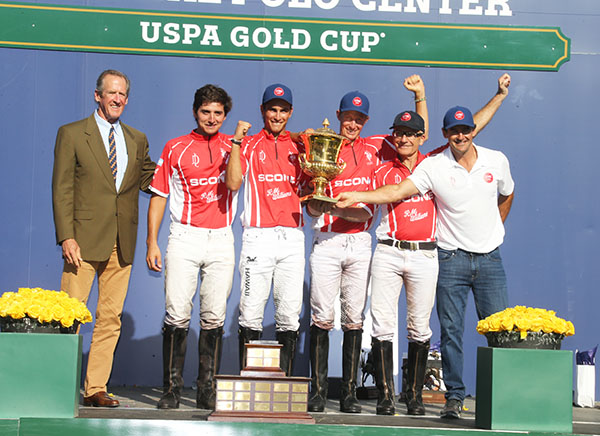 On Sunday, March 26, the second leg of the Gauntlet of Polo culminated in the USPA Gold Cup Final. The competition found defending champions Pilot (Curtis Pilot, Matias Gonzalez, Matias Torres Zavaleta and Facundo Pieres) battling 2021 USPA Gold Cup victors Scone (David Paradice, Cody Ellis, Poroto Cambiaso, Pelon Stirling and sub Tomas Panelo).
Meeting for the second time in the Gauntlet of Polo this year, the final offered an explosive rematch of the very first game of the C.V. Whitney Cup that ultimately took Scone out of contention in the first leg of the series.
A low-scoring final, Scone's fourth chukker momentum ultimately created enough space to ward off threats of a Pilot comeback. As the final horn sounded, Scone held to an 8-6 lead, marking their first Gauntlet title since 2021. Along with the trophy, Scone was awarded $50,000 in prize money. The win also marked the continued Cambiaso domination across the Gauntlet of Polo, as now both Adolfo and Poroto have stood atop the podium this year.
"The strategy obviously was high intensity, try to get Facundo when he doesn't have the ball because when he's got it, it's very hard to take it away," Ellis said of Scone's strategy. "And just trust in ourselves. We've got a pretty good system that we've been working on since the beginning, and I think it showed a little bit today that we can do it."
Characterizing Scone's style of play, Panelo said, "The idea of playing is open and fast, and, of course, Poroto managing the ball, he's probably the best one doing it. I think it worked really well. Cody played really well, David helped us a lot marking and [on] defense — defending, attacking, everything. So, I think we played well."
With Panelo playing in place of Stirling, Scone was awarded one goal on handicap at the onset of play. A slow first chukker, Scone's Ellis was the sole player able to find the goal, giving Scone an early 2-0 lead. Pieres and Cambiaso traded goals in the second chukker to maintain the gap. Zavaleta and Pieres were both able to capitalize from the field in the third. A single response from Panelo placed Pilot within one, with Scone narrowly leading 4-3 at halftime.
Re-energized and refocused, Scone came out strong in the fourth chukker, with goals from Cambiaso, Panelo and a Penalty 1 outpacing a single score from Zavaleta to extend Scone's lead to 7-4. Pilot came back with vengeance in the fifth, shutting Scone out completely — only a Penalty 2 from Pieres diminishing Scone's advantage 7-5. In the final chukker, a Penalty 2 from Cambiaso was matched by a field goal from Pieres, but Pilot's late offensive drive was not enough to overtake Scone's lead. As time expired, Scone clung tightly to the 8-6 lead, capturing their second USPA Gold Cup title and first Gauntlet recognition in two years.
Scone team owner Paradice was thankful for the friendship and support of Valiente team owner Bob Jornayvaz.
"It's his organization and the combination of him and Adolfo Cambiaso [that] have put all of this together," Paradice said. "It has been years and years in the making; it's great to be a part of it. They do things properly. Whether it's business, or whatever it is. Bobby's been great for me. He gives me advice on the field, he's a good thinker on the field. He helps me think about what I should and shouldn't be doing. Him and Adolfo have been a big part of us being here."
The win was especially sweet for Ellis, who competed in the 2022 USPA Gold Cup Final with Park Place but lost to Pilot 11-10 in overtime. "It means everything, to be honest," he said. "I think we've got a really good vibe on the team, especially when the going gets tough, we group together quite well and have a little chat and say, 'Hey boys, we've got to fix something here.' I think that paid off well. The changes that we made in the throw-ins and the little things we did, I think that made a big difference today."
For his impressive work igniting both the offensive and defensive fronts for Scone, along with two field goals, Tomas Panelo was named Most Valuable Player.
Reflecting on the recognition, Panelo said, "Thank you very much. For me it's a really great opportunity to play on a team like that. It's a young team, it's nice [that] Pelon gave me his string, he's really well-mounted, and Adolfo also gave me some horses. [It's] a great opportunity, I enjoyed it a lot, and I'm really happy."
Poroto Cambiaso's first chukker horse and last chukker spare, Cabe Bailarina, was presented Best Playing Pony honors. She is a 10-year-old Argentine chestnut mare owned by La Dolfina. "Cabe Bailarina was bred by our veterinarian Juan Pablo [Quiroga] and owned by my dad and La Dolfina," Cambiaso said. "And I believe she has been my best horse all season long. She's very strong and very complete. I think she deserved it."
In addition to the title, Scone received $50,000 in prize money. This year's Gauntlet of Polo, in partnership with USPA Global Licensing, also embraced the spirit of giving, with nonprofit charities chosen by the finalists receiving a donation. Scone chose to support the Retired Racehorse Project with a $2,500 donation, while Pilot contributed $2,500 to Polo for Life.