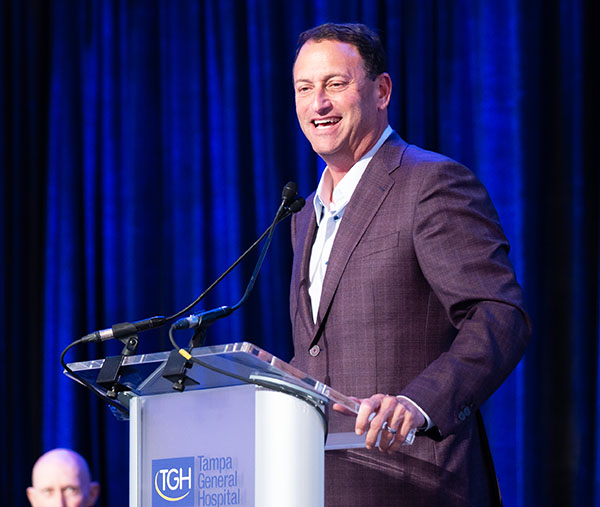 Tampa General Hospital gathered the South Florida community for its second annual educational event on Wednesday, March 29. Held at the Trump National Golf Club in Jupiter, Tampa General hosted a "fireside chat" to inform guests about how the academic medical center is progressing academic medicine, innovation and research to provide world-class care to the State of Florida.
Guests enjoyed a cocktail reception, dinner-by-the-bite and dessert, while hearing from Tampa General President and CEO John Couris, along with a panel of world-class physicians, about Tampa General's role as a leading hospital in America. Topics included Tampa General's services for residents across the state, including complex care, transplants, oncology and a multidisciplinary approach. Patients from Florida's East Coast also told inspiring stories about how the academic medical center saved their lives when they were unable to receive the treatment they needed locally.
The event aimed to educate the community about TGH's expanded presence across the state, and how the institution works to augment regional hospitals by taking on rare, complex medical cases.
Tampa General is the third highest-ranked hospital in Florida by U.S. News & World Report for 2022-23 and is the primary teaching affiliate of the USF Health Morsani College of Medicine. Tampa General has been affiliated with the USF Health Morsani College of Medicine since the school was created in the early 1970s. More than 300 residents are assigned to Tampa General Hospital for specialty training in areas ranging from general internal medicine to neurosurgery. In addition, USF medical, nursing, pharmacy and physical therapy students all receive part of their training at Tampa General. Learn more at www.tgh.org.