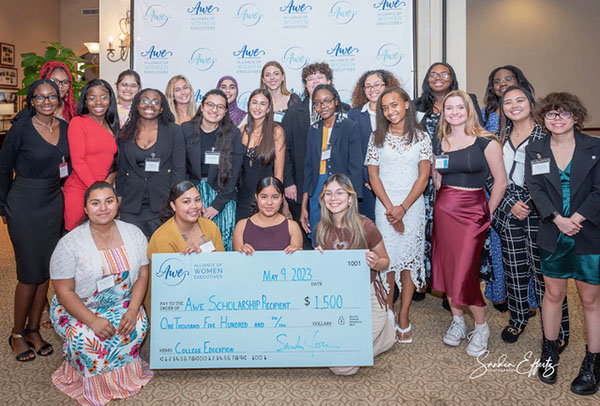 The Alliance of Women Executives (AWE) awarded scholarships to 24 deserving high school graduates at the group's sixth annual scholarship awards ceremony held May 9 at Abacoa Golf Club, emceed by WPTV news anchor Shannon Cake.
These young women come from all walks of life all with unique stories. In total, 10 of the recipients will be attending Palm Beach State College, 11 will become Florida Atlantic University students, one will attend Palm Beach Atlantic University and two will enter Lynn University, and 15 are the first in their family to attend college. All are accomplished both academically and in their service to the community. The students plan to pursue a variety of degrees from nursing, law and forensic investigations to STEM, psychology and the arts. In addition to receiving a scholarship, each student received a laptop courtesy of Universal Property & Casualty Insurance Company and Alpesh Patel.
AWE is a volunteer, member-based nonprofit founded by Vicki Tate. With the inclusion of the 2023 awards, a total of 103 scholarships have been granted to Palm Beach County young women. AWE's members represent leaders in banking, business, education, finance, government, law, marketing, nonprofit management, publishing and many other business endeavors in Palm Beach County.
"The passion and dedication of AWE members along with the support of our donors has been outstanding. AWE's mission is important to Palm Beach County, to these young women and to me. I am deeply grateful to our members and donors. Without them, none of this would be possible," Tate said.
For more information, call (561) 789-8415, e-mail info@aweinc.org or visit www.aweinc.org.