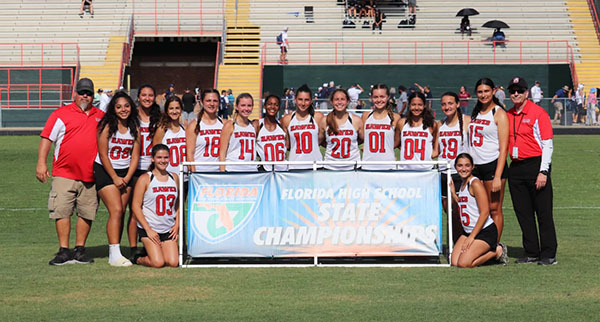 The Seminole Ridge High School girls varsity flag football team achieved one of its season-long goals: reaching the Florida High School Athletic Association's Class 2A state final four at Mandarin High School in Jacksonville. But the team was unable to return home with the championship trophy.
Still, while the season ended with a tough 19-0 loss to eventual state champion Alonso High School from Tampa on Friday, May 12 in the FHSAA's Class 2A state semifinals, the memories of this past season are filled with more positives than negatives.
According to Seminole Ridge High School head coach Scott O'Hara, the game against Alonso was competitive from the outset. Seminole Ridge had chances to score and take the early lead.
"We had the ball first and went down the field, but, unfortunately, stalled out on their five-yard line," O'Hara said. "We had a couple of opportunities on that very important opening drive, but we couldn't put the ball in the end zone. They took over on offense, and we forced them to punt. We drove again, but then had an offensive turnover."
While Alonso's defense was strong, Seminole Ridge's defense was also strong.
"We held their offense in check until a fourth down in the second quarter, when a defensive penalty on us gave them a first-and-goal," O'Hara said. "They scored and got the extra point. The rest of the first half was scoreless until they scored on a long touchdown pass with about 12 seconds to go in the first half on a defensive breakdown by us. We stopped them on the extra point, so the score at halftime was 13-0 in favor of Alonso."
In the third quarter, the game remained close. "The second half was scoreless until late as both defenses really stepped up," O'Hara recalled.
In the fourth quarter, Alonso's offense was able to score its last touchdown of the game.
"Alonso scored a final touchdown with about four minutes to go [in the game], and we weren't able to put together a final drive before the clock ran out," O'Hara said.
Despite the loss, O'Hara was able to see the positive side of the season.
"It was a very disappointing final game for sure, but the loss doesn't take away from the outstanding season our players produced, and I couldn't be prouder of them," he said. "It was an extremely tough loss against Alonso. They deserve credit for being the well-coached, talented state champions that they are."
According to O'Hara, there were some strong statistical performances by many of his players.
"Senior quarterback Jaida Salguero completed 23 of 37 passes for 116 yards against a very stingy defense," O'Hara said. "Senior Chelsea Nedoroscik led the team with nine gutsy catches for 48 yards, and senior Cayley Chieffalo had five great catches for 29 yards. Junior Angelina Sanchez also chipped in with five important receptions for 20 yards. Chelsea also led the team defensively with five valuable flag pulls, and senior Kyarra Howard added four flag pulls with her consistent defensive play before an injury sidelined her late in the game."
O'Hara was very proud of his four seniors — Howard, Salguero, Nedoroscik and Chieffalo — who displayed great leadership during the season.
"The leadership, enthusiasm, effort and skill they gave to our team this season was nothing short of outstanding and will be sorely missed," O'Hara said. "Their season stats, of course, are unbelievably impressive, but that doesn't even come close to describing the total impact these special four players had on the rest of our players and our season. They truly were the 'fantastic four' for Seminole Ridge's varsity flag football team this year, and I am so appreciative of their efforts in leading our squad."
Moving forward, O'Hara is optimistic that this year's juniors, sophomores and freshmen will step up and play a leading role for the team next year.
"Other big contributors to our success this past season include juniors Angelina Sanchez, Lily Locke, Gisella Negron and Alexa Baez; sophomores Dakota Parks, Lola Agosto and Sydney Pena; and freshmen Carrie Didio, Victoria Ayllon and Kaylie Pintado, who came up to help from the junior varsity team for the playoffs," O'Hara said. "These young ladies will have their work cut out for them trying to fill the huge shoes left by our four departing, sensational seniors."
While O'Hara is the head coach, he is quick to point out that he has had help on the sidelines this year during practices and games.
"A very special thank you to my assistant coach Ron Taylor for his invaluable help and positivity all season long, and to our gracious team mom, Carrie Chieffalo, whose behind-the-scenes work was simply remarkable," he said.
Seminole Ridge finished the year with a 14-4 record.