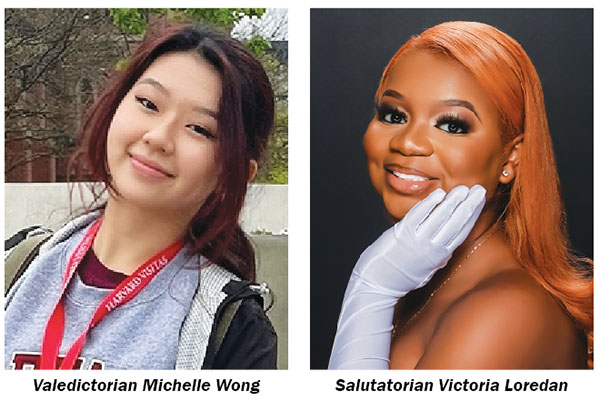 Wellington High School's Class of 2023 will celebrate their graduation on Monday, May 15 at 1 p.m. at the South Florida Fairgrounds Expo Center. As the seniors march into the commencement, they will be led this year by valedictorian Michelle Wong and salutatorian Victoria Loredan.
Both young women are members of the National Honor Society, Math Honor Society and the Science Honor Society with a world of opportunity ahead.
"Aside from earning the academic title of valedictorian for the Class of 2023, I feel extremely grateful to have been accepted into Harvard, Princeton, UNC Chapel Hill, UF and more. It all feels so surreal, and it feels amazing to know that my hard work has amounted to reaching my goal," Wong said. "On National Decision Day, I committed to Harvard for its environmental science and public policy major with potentially a pre-med track. However, I am still deciding what it is I want to study or do in life, so my major is highly tentative. I am excited to learn more about the steps to becoming an entrepreneur with a successful startup, and how I can connect this to making the planet a healthier place for us all."
Wong has a 4.0 GPA and a weighted GPA of 5.5067. She is the co-founder and co-president of the Asian Student Union at WHS, where she felt that the Asian members of the student body deserved both representation and a voice. She is the founder and president of the Kindness Matters 365 chapter, where Loredan is also a member.
"At FAU, I was a fellow in the Barb Schmidt Fellowship in my junior year for two semesters. In this club, we learned about mindfulness and social activism. During my time as a fellow, I was the founder and director of management and operations of a student-led organization called Sea Citizens. We worked with local organizations to help fund the deployment of artificial reefs as an effort to conserve Florida's dying coral reefs," said Wong, who is now a Climate Ready ambassador at FAU as well. "I am the secretary of the Palm Beach County School District's Superintendent's Student Advisory Committee, also known as SSAC. I was selected by Superintendent Mike Burke to voice the thoughts of the students of our district to our school board members."
When offering advice to her fellow graduates, Wong's words are insightful and down to earth. "Trust the timing of your life. Not everything goes exactly as planned, but things will always fall into place as it should be. It's OK if you feel like the pace of your life is moving slower than your peers. We are all living on our own individual timelines, so don't feel pressured to compete in a nonexistent race," Wong said.
She plans on spending this summer as an intern or working. "It would also feel great to catch up on what feels like years of missed sleep that has accumulated since the seventh grade," Wong added.
Loredan is graduating with the highest GPA of any Black student who has ever attended WHS, a 4.0 GPA and a weighted GPA of 5.46. She is also leaving high school with an AA degree in psychology.
"One of the main challenges was having to navigate high school online. Having to juggle my schoolwork while also watching my two younger siblings was hard work," she said. "One minute I'd be finding the area of a circle, and the next I would be stopping my brother from jumping off the counter. However, from COVID-19, I was able to learn more about myself not only as a student but as an individual."
Loredan is also the president of BLAST (Black Leadership Achievement Student Team), a club that led to some of her favorite events in high school, including meeting leaders like Mayor Anne Gerwig, Community Services Director Paulette Edwards and members of the Crowned Pearls of Wellington.
She feels these experiences led to an improvement in her speaking and leadership skills. She also received first place in a national video contest called "Districts Make a Difference." Her parody of the theme song from The Fresh Prince of Bel-Air was a creative and fun way of showing how her village's special district helps the local community.
"Like the rapper J. Cole says, 'It's beauty in the struggle, ugliness in the success.' Although there may be times in the future when you feel like giving up or you think you made a mistake, never forget that it takes hard work for you to relish in the success you deserve," Loredan said. "I plan to attend the University of Florida and pursue a degree in psychology and a minor in French. My goal is to be a pediatric psychiatrist so I can give children of color representation in the mental health field."
Loredan looks forward to her second summer as an intern at Premier Family Health. Her volunteer projects include Quantum House, Feeding South Florida, Big Dog Ranch Rescue and the Village of Wellington, where she received a leadership award for her outstanding work.