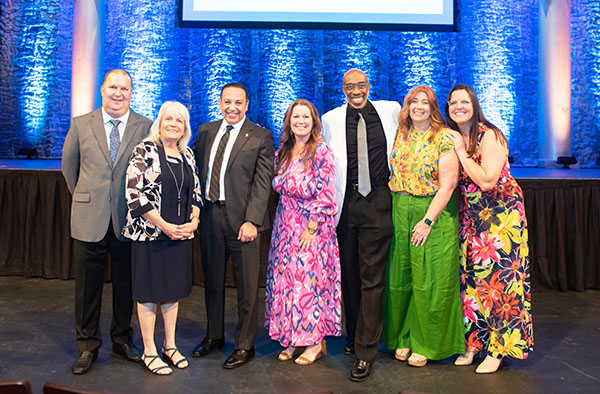 The Economic Council of Palm Beach County Foundation recently announced the winners of the 39th annual William T. Dwyer Awards for Excellence in Education, presented by the Hanley Foundation. More than 500 guests gathered at the 2023 Dwyer Awards Ceremony on Monday, May 1 at the Kravis Center for the Performing Arts in West Palm Beach to celebrate the nominees and winners, who were judged on their classroom accomplishments, personal education philosophy, leadership, and outside the classroom school-related or community-based activities.
The winners in the seven categories include: Magaly Hodgkiss from South Olive Elementary School for the Grow Up Great/Early Learning Education Award; Will Rhymes from Northmore Elementary School for the Elementary School Education Award; Rebecca Patterson from the Conservatory School for the Middle School Education Award; Monica Russell from Suncoast High School for the High School Education Award; Kristin DeLaTorre from the Conservatory School for the STEM Education Award; Thomas Hrebin from Pioneer Park Elementary School for the Student Advancement & Career Education Award; and Ashraf Abdelsayed from Discovery Key Elementary School for the Special Programs Award.
"It was an honor to celebrate these gifted educators in our community who give tirelessly to the youth in Palm Beach County," said Michele Jacobs, president and CEO of the Economic Council. "It was a night to remember, and excitement filled the air as community leaders, school board members and educators recognized the finalists' achievements. We appreciate the generous support from our sponsors, committee and judges who helped make the event memorable."
The Dwyer Awards, an annual program developed in 1984 and supported by the Economic Council, honors outstanding educators from public and private schools in Palm Beach County. The program seeks to increase awareness of the exemplary teaching in the community and promote high standards of excellence in education. The awards recognize educators and provide financial awards.
The Economic Council comprises business leaders committed to educational excellence as a key tenet for creating a prosperous business environment. Nearly 450 nominations of educators from public, private and charter schools were considered for the 2023 Dwyer Awards. The nominees completed a comprehensive application process carefully evaluated by Palm Beach County business leaders. The judging took place over a multi-round process to identify the top applicants in each of the seven categories.
For more information, visit www.economiccouncilpbc.org/dwyerawards.