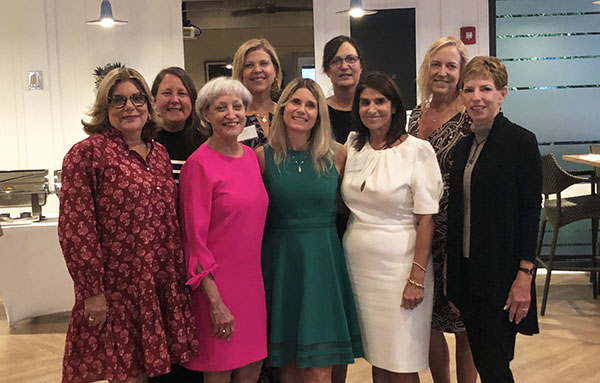 The Executive Women of the Palm Beaches Foundation recently announced its incoming board of directors for the 2023-24 season. Installed on June 20, the new slate of officers includes both longstanding and recently joined members.
The EWPBF welcomed the following leaders to serve on its board: President Katie Newitt; Vice President of Resource, Development & Membership Kae Jonsons; Vice President of Resource Development & Fundraising Charlotte Pelton; Vice President of Programs & Education Elizabeth Houlihan; Vice President of Community Outreach Virginia Spencer; Secretary Vicki Pugh; Treasurer Alissa Dhawan; Treasurer-Elect Sheril Jalm; and General Counsel Cynthia Jackson. Continuing their service on the EWPBF board are Cecilia Hudnet, Elizabeth Hamma, Jackie Halderman, Danny Hansen and Cindy Pollack.
In recognition of its 40th anniversary, EWPBF also announced a new conversation series, geared toward addressing professional women's challenges. This summer, the organization is hosting moderated, small-group discussions, where they plan to explore executives' most pressing issues and share how EWPBF can help shape solutions to those issues.
"EWPBF has empowered women to level up and lead for 40 years. Heading into the future, EWPBF will continue to address the important challenges faced by women leaders," Newitt explained.
Sessions are open to all women business professionals in Palm Beach County, but space is limited. Guests are invited to one of the following sessions: Tuesday, July 18, from 9 to 11:30 a.m. at the Delray Beach Library (100 W. Atlantic Ave., Second Floor, Delray Beach), and Thursday, Aug. 17, from 6 to 7:30 p.m. at the Hubbard Radio Offices (701 Northpoint Parkway, Suite 500, West Palm Beach).
RSVP via e-mail to info@ewpb.org or call (561) 868-7070.
Empowering women to succeed and lead, the Executive Women of the Palm Beaches Foundation is a nonprofit professional association that inspires integrity, equality and leadership in the workplace and community. To learn more, visit www.ewpb.org.