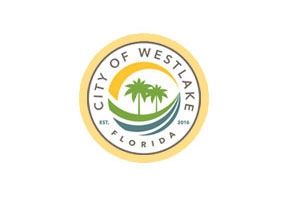 The large and long-awaited Publix supermarket, which includes a pharmacy and liquor store, is open in the Westlake Plaza on Seminole Pratt Whitney Road, but growth in the City of Westlake isn't taking a breather.
At the Westlake City Council's Tuesday, June 6 meeting, the council approved a request by DKC Westlake Landings LLC for a site plan modification for the Shoppes of Westlake Landings that will allow for a TD Bank branch.
Another bank is planned for the Publix at Westlake Plaza, City Manager Kenneth Cassel said, noting that the municipality also has received a submittal for construction of five storefronts in the recently revamped Winn-Dixie Marketplace Plaza on the east side of Seminole Pratt Whitney Road.
Meanwhile, the 145,643-square-foot James Business Park is completely leased "before they even go vertical," Cassel said. The business park, located behind the new Publix at the corner of Town Center Parkway and Persimmon Blvd., is scheduled to open in 2024.
"I think what happens is that every business has its own matrix," Cassel said. "One business starts to feed off the next."
The changes to the planned north building in Westlake Landings call for replacing the previously approved 3,972-square-foot restaurant use and 5,478 square feet of mixed-use space with a 2,572-square-foot bank with a drive-through, and 6,878 square feet of mixed-use space, for a total of 9,450 square feet.
There were no changes proposed to the planned 7,065-square-foot south building.
TD Bank is headquartered in Cherry Hill, New Jersey, and is a subsidiary of Canada's Toronto-Dominion Bank Group.
The new Publix store opened on Thursday, June 8.
"We are excited to welcome our customers to their new store at the Westlake Plaza Shopping Center and look forward to providing them with the premier service and quality Publix is known for," Publix Media Relations Manager Lindsay Willis said.
Cassel said the opening of the 48,388-square-foot supermarket is "a key part of the puzzle" in terms of Westlake becoming a true, self-sustaining community. "It's a job generator. It's a tax-base generator," he said.
The Publix at Westlake features a full-service deli counter; a produce department that carries organic and non-organic fresh fruits and vegetables, many of them locally grown; a meat department that features custom cuts; and a seafood department that carries fresh fish and shellfish, according to the Shelby Report, a grocery industry news outlet.
As part of its grand opening, Publix donated $1,500 in nonperishable food items to Seminole Ridge High School to create meals for students in need and the homeless.
"As a food retailer, we know the importance of food around the table and never want our neighbors in need to wonder where their next meal will come from," Willis said. "At Publix, we believe our greatest opportunity to give back is by helping to alleviate food insecurity in the communities we serve."
Publix employs more than 240,000 people at 1,343 stores in Florida, Georgia, Alabama, Tennessee, South Carolina, North Carolina and Virginia.
In other business, the council passed a resolution allowing it to enter into an agreement with Minto, the city's largest landowner and developer, to use the vacant property between Town Center Parkway north and south for the community's second annual FourthFest Celebration on Tuesday, July 4.
The gates will open at 3 p.m. and the fireworks will begin at 9 p.m., Cassel said. More than 21 food trucks, other vendors of various kinds, a kids' zone and two bands are expected. "Everything is lining up," he said. "It's going to be just like last year or even better."