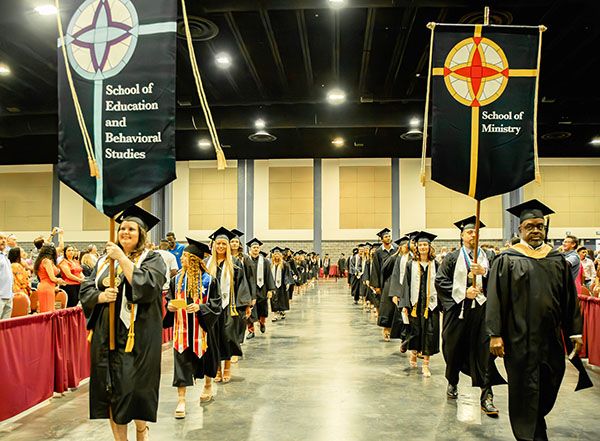 Palm Beach Atlantic University recently celebrated more than 600 graduates at its 2023 spring commencement, which took place at the Palm Beach County Convention Center in downtown West Palm Beach.
The ceremony began with music by the PBA Percussion and Brass ensemble. During commencement, President Dr. Debra A. Schwinn recognized the Class of 2023 and recent milestones at the university.
"This year's theme was Rejoice Always, and what better time to rejoice than now as we celebrate your many years of hard work and the futures that lie ahead of you," Schwinn said. "This past fall, we welcomed 844 students, the largest incoming class in PBA's history. Our students have now served over 3.8 million Workship hours. Think about the impact this has made on the community and around the world."
University leadership also honored several unique accomplishments, including Reserve Officer Training Corps (ROTC) graduate Sam Miltner, who now ranks as a cadet commissioning as a second lieutenant in the U.S. Army Reserve; four winners of the Fulbright program, a prestigious award that gives students the opportunity to pursue lecturing and research efforts abroad; and eight outstanding graduates who made significant achievements in academics, student life and community service while at the school.
Lilah Castle, outstanding graduate for the School of Education and Behavioral Studies, shared a few remarks.
"I'm becoming a better teacher every day because of the support and counsel of my professors," said Castle, who completed PBA's rigorous honors program and studied abroad at Oxford. "PBA encourages students to explore all opportunities, [and we receive] constant encouragement from professors and friends. These resources will allow us to enhance the world around us in our chosen fields, churches, families and communities."
After the graduates walked the stage, Schwinn gave a final word of encouragement.
"Your education doesn't end here," she said. "We can all be lifelong learners. Regardless of what your future looks like, you have the ability to serve and honor God with it."
Palm Beach Atlantic University, founded in 1968, is a private, Christian university, offering 55 undergraduate degrees, numerous graduate degrees, and professional degrees in nursing and pharmacy, with a 29-acre campus in West Palm Beach and an Orlando campus.