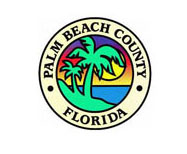 Palm Beach County's Level Up Mentoring Program has been recognized with a Best in Category for Children and Youth Achievement Award from the National Association of Counties (NACo).
The Palm Beach County Youth Services Department, in partnership with the United Way of Palm Beach County's Mentor Center and the Children's Services Council of Palm Beach County, launched the Level Up Enhanced Mentoring Program in 2021 to offer mentoring opportunities for youth ages 11 to 19 who are involved with or at risk of entering the juvenile justice or dependency systems. The goal is to match youth with a long-term, positive role model, make referrals to community-based services, and provide opportunities to continue education or career exploration.
"Collaboration is key in providing opportunities for young people in Palm Beach County, and we are very appreciative that NACo recognizes this unique collaboration with United Way and the Children's Services Council," said Tammy K. Fields, director of Palm Beach County Youth Services.
Each year, NACo's awards are given in 18 categories that reflect the vast, comprehensive services counties provide. The categories include children and youth, criminal justice and public safety, county administration, information technology, health, civic engagement and more.