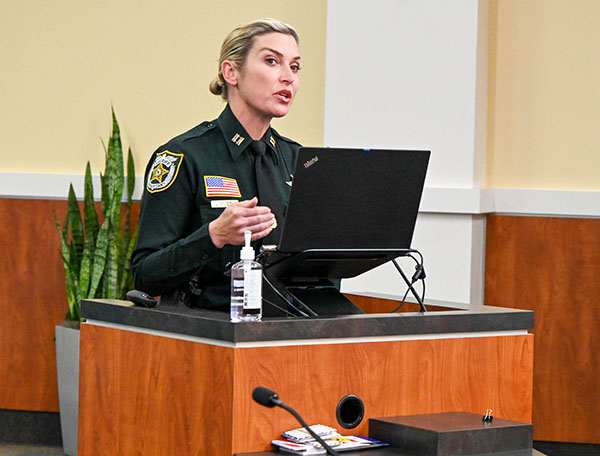 Plenty of challenges abound, such as a 30 percent rise in shoplifting arrests, but Wellington's crime rate in several categories stacked up well against peer communities in 2022, a report to the Wellington Village Council on Tuesday, June 13 showed.
For example, Wellington recorded the lowest number of robberies and car burglaries per 100 residents compared to Delray Beach, Boca Raton, Jupiter, Palm Beach Gardens, Greenacres and Royal Palm Beach, according to a presentation by Palm Beach County Sheriff's Office Capt. Nichole Addazio.
"Most times we want to be on the top of the charts, but you're an exception where we want to be on the bottom," Vice Mayor Michael Napoleone said. "That's great."
To break out one of those categories, Wellington had seven robbery calls in 2021, and four in 2022, making arrests in three of those four cases, said Addazio, who took over control of Wellington's PBSO District 8 earlier this year.
Shoplifting has been a different story. Arrests climbed to 156 from 120 the previous year amid a rise in activity there. A variety of factors seem to be in play.
"Some of the suspects are continuing to use COVID-19 masks in an attempt to conceal themselves," Addazio said.
Among other issues she cited, the legal threshold for grand theft charges has been raised to $750, affecting deterrent value somewhat. Meanwhile, some retailers have been slow to review security camera footage or inventory data, or even reluctant to report shoplifting at all, figuring it is not worth the time, trouble, or possible liability or safety risk to employees who might try to intervene.
Approximately 10 retailers in the Mall at Wellington Green area have been refusing to prosecute shoplifting, Addazio said. Officials have been trying to encourage them to rethink that approach.
Burglary and theft crimes, including shoplifting, increased 11 percent in the village to 529 in 2022. The sheriff's office cleared 19.33 percent of those cases, beating the national clearance average of 14 percent, she said.
One area Addazio called "outstanding" was traffic enforcement. Written citations and verbal warnings increased to 4,294 in 2022 from 2,633 the year before, aided in part by temporary grants that are going away. Addazio said that District 8 will look for future grants or other ways to continue effective enforcement.
Crashes increased less than one percent to 1,231, staying well below the goal of less than three crashes per 100 residents, she said.
A single, rare homicide case in January acted as a reminder that the crime picture can change at any time, though preliminary statistics for slightly more than five months of 2023 showed most categories remain close to numbers from the same period a year earlier, according to Addazio's presentation.
At the same meeting, the council saluted the retiring PBSO officer who until recently had been overseeing the Wellington district, Capt. Rolando Silva. Sheriff Ric Bradshaw recognized Silva's work in a ceremony that included the awarding of a Legion of Merit medal.
"This is thanking you for 33 years of service, not only to the county, but to the village," Bradshaw said.
The Village of Wellington became the PBSO's first contract to provide law enforcement services to a municipality, serving as a model for 12 others to follow, Bradshaw noted.
Silva served as the District 8 commander in Wellington from 2016 until his retirement this year. His career included stints in Lake Worth and the Glades, and included charitable work in Haiti, Puerto Rico and Africa.
"Working in Wellington has been the highlight of my career," Silva said.
Councilman John McGovern told Silva, "Every time there was a DUI death, or there were car burglaries that were never-ending, or transitioning us to have license plate readers, you made sure you acted with your full zeal, your full effort and your full commitment."