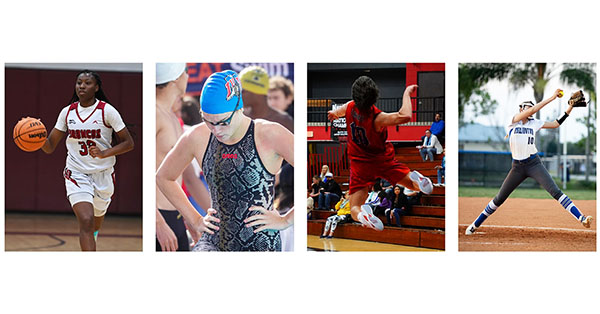 On Friday, June 10, the top high school athletes, coaches and teams in Palm Beach County were recognized and honored at the Palm Beach County High School Sports Awards held at the Kravis Center in West Palm Beach.
This year's awards program was sponsored by Baptist Health and the Honda Classic. During the awards program, the top male and female high school athletes in Palm Beach County were honored for being the most outstanding in their respective disciplines.
Of all the award winners, several were from high schools in the western communities. For instance, the top boys cross country runner is Colton Lawson (King's Academy); the top girls swimmer is Aly Bozzuto (King's Academy); the top female softball player is Jordan White (Wellington High School); the leading girls flag football player is Cayley Chieffalo (Seminole Ridge High School); the top girls basketball player is E'Zaria Adams (Palm Beach Central High School); the best defensive football player is Justin Bostic (Palm Beach Central High School); and best boys volleyball player is Logan Taylor (King's Academy).
Lawson's best time in the 3.1 cross country races last fall was 15:26.1, and he won last fall's Palm Beach County Championship. For Bozzuto, she won the girls 50-yard freestyle and was second in the girls 100-yard freestyle at the Florida High School Athletic Association's Class 1A state meet last November. White was the leading pitcher and hitter for the Wolverines, as she led them to the FHSAA's Class 7A state semifinals. On offense, Chieffalo caught 53 passes for 726 yards and 11 touchdowns, and on defense, she had 59 tackles to lead the Hawks to the FHSAA's Class 2A state semifinals. Adams averaged 22.3 points a game during the basketball season. Bostic led the Broncos to an undefeated season and a berth in the FHSAA Class 7A state semifinals. During the season, he had 74 tackles and grabbed seven interceptions, five of which he returned for touchdowns. Finally, Taylor, an outside hitter, led TKA with 363 kills while leading the team to the FHSAA final four. This fall, Taylor is headed to North Greenville University, where he will play men's volleyball.