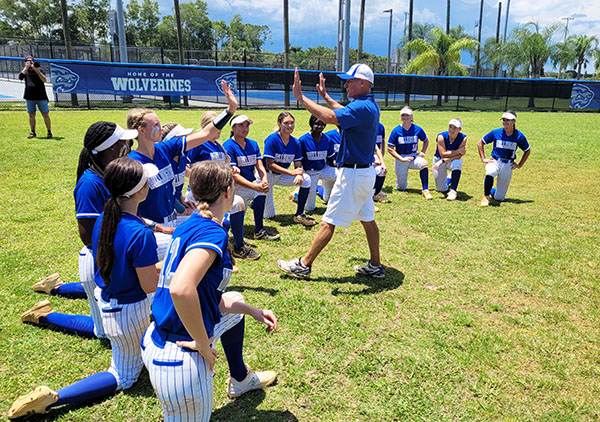 Wellington High School's girls varsity softball team reached the Florida High School Athletic Association's (FHSAA) Class 7A state final four held May 26-27, ending their season with a loss in the state semifinal game.
On Saturday, May 20, the Wolverines defeated Jupiter High School in the Class 7A, Region 3 final, 2-1. That was Wellington's fifth-straight postseason victory. The win propelled the Wolverines to a state semifinal game against Tampa's Plant High School.
It was the third time since 2011 that Wellington had reached the state final four in softball. The game against Plant was played on the evening of Friday, May 26 at the Legends Way Ballfields in Clermont. It was expected to be close and competitive, and it was.
The Wolverines had senior pitcher Jordan White starting on the mound with sophomore Tori Payne waiting to finish the game, as Wellington had done throughout the season.
The players were confident of winning and advancing to the state final the following day against Palm Beach County rival Spanish River High School, which had just defeated Lake Brantley High School in the other semifinal, 13-9 in extra innings.
Wellington head coach Mark Boretti liked his team's chances, since everybody was healthy, and his starting pitcher was in fine form.
"Jordan was as good as any time this season," Boretti said.
But so was Plant's starting pitcher, junior Addison Swink.
"Their starting pitcher was strong, too, and we expected that," Boretti said.
Both teams were scoreless through the first three innings.
Finally, Wellington struck first. In the top of the fourth, senior Kaitlyn Campbell reached first base after being hit by a pitch. She then stole second. Knowing that every run was precious, Boretti instructed senior Kylie McCann to lay down a sacrifice bunt to move Campbell to third base, which she did.
With one out and Campbell standing at third, sophomore Kaylee Riles hit a ground ball to Plant's shortstop. Campbell took off for home as soon as the ball was hit. Plant's shortstop fielded the ball and fired it back to her catcher to tag out Campbell, but Plant's catcher was unable to control the ball. Campbell slid and was safe at home. Wellington led, 1-0.
"It was a lights-out play at home," Boretti said.
In the top of the sixth, with Wellington still leading 1-0, the Wolverines had a chance to add to their lead.
"In the sixth inning, we had runners at first and third with one out, but we couldn't drive in that second run," Boretti said. "Our next two hitters hit a pop up and a fly ball to end the inning."
Looking back, Boretti knows that a second run would have proved decisive for the team and probably would have been the game-winner.
Still, going into the bottom of the sixth inning, Wellington led 1-0 and was six outs away from reaching the Class 7A state final.
In the bottom of the sixth, Plant began its comeback. With two outs and a runner on second, one of Plant's batters hit a bloop single to centerfield that fell just in front of Wellington centerfielder Kelsie Riggan. That tied the game at 1-1.
After Wellington was unable to score in the top of the seventh inning, Boretti inserted Payne as the new pitcher with one out in the bottom of the seventh. Payne delivered a powerful punch as she recorded the final two outs in the bottom of the seventh to send the game to extra innings.
Boretti said that it was time to give Plant a look at a different pitcher. He was delighted with White's pitching performance. "Jordan was excellent," Boretti said.
After pitching six and a third innings, White recorded five strikeouts, allowed just two walks and scattered five hits. She was supported by a stellar defense.
"Angelina Mangini was spectacular at third base in the game," Boretti said. "She made three great plays on defense with runners in scoring position. Kylie McCann also made some great plays at second base, too."
In the top of the eighth, Wellington's offense didn't generate a run. In the bottom of the eighth, Plant had a runner at second with two outs when a sharply struck ground ball through the infield allowed Plant to score the game-winning run. Plant won the game, 2-1.
"It was a hard-hit ball that took a high bounce over Tori's head and went straight up the middle that no one had a chance to field," Boretti said.
Boretti agreed that it was a game which either team could have won.
"Plant played well, and we only had three hits in the game," Boretti said. "Still, we traveled to Clermont expecting to play two games and come home with a state championship trophy. That was our plan. It's disappointing to lose, but it was a great game played by both teams."
Boretti will always have positive memories of Wellington High School's 2023 softball team.
"The season was a blast," he said. "This was a unique group of players that came together as a team. We had a lot of fun."
As for Boretti, who just finished his 14th season as Wellington's head coach, he plans to return next year as coach and is optimistic that next year's team will make a run at a state title.
"The immediate future still looks bright for us," said Boretti, whose team finished with a 20-3-1 record.
As for the Class 7A state championship game the following afternoon, the Spanish River Sharks defeated Plant, 3-2, to capture the state title.
"I was looking forward to having an all-Palm Beach County final," Boretti said. "Hats off to Spanish River for winning the state title."