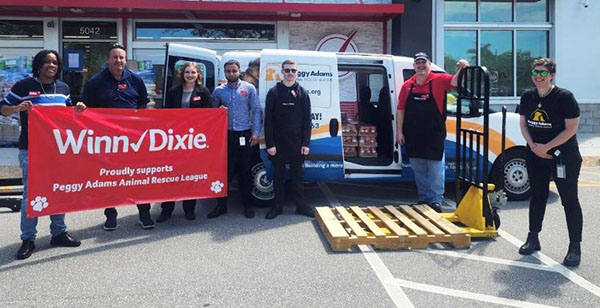 Winn-Dixie donated more than $5,000 in pet food and supplies to the Peggy Adams Animal Rescue League on Friday, June 2 at the Westlake Winn-Dixie, located at 5060 Seminole Pratt Whitney Road.
During the month of May, the Westlake and Royal Palm Beach Winn-Dixie stores partnered with the organization in honor of National Pet Month to help stock the shelter with vital resources for local animals. Winn-Dixie directly donated $5,000 in Whiskers & Tails pet supplies, and generous Westlake and Royal Palm Beach customers also donated hundreds of bags of pet food throughout the month.
Additionally, Winn-Dixie's parent company, Southeastern Grocers, partnered with nearly 400 animal welfare organizations throughout the Southeast to raise awareness and support during National Pet Month. For every Community Bag with a Giving Tag purchased, $1 was directed to each store's animal welfare organization partner. More than $5,100 was raised and donated during the month of May.
Winn-Dixie is dedicated to supporting and elevating the causes that are important to its community. The Peggy Adams Animal Rescue League provides vital aid by ensuring lost animals find their way home, providing new family members through animal adoptions and by fostering responsible pet ownership through its veterinary and licensing services.
Founded in 1925, Winn-Dixie grocery stores, liquor stores and in-store pharmacies serve communities throughout Alabama, Florida, Georgia, Louisiana and Mississippi. For more information, visit www.winndixie.com and www.segrocers.com.