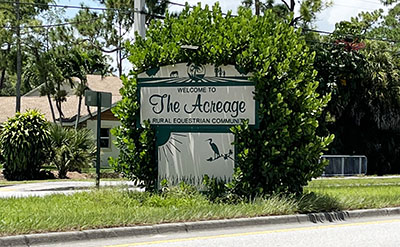 For many people, living on a dirt road is a pain in the… sinuses, and keeping the white, powdery dust off of everything you own is a hassle. For others, it creates a sense of old Florida innocence and a rural lifestyle away from the metroplex that dominates Miami-Dade, Broward and Palm Beach counties. And can you really put a price tag on that?
Well, yes, you can, Indian Trail Improvement District Executive Director Burgess Hanson said at the Tuesday, July 25 meeting of the ITID Board of Supervisors.
It will cost ITID residents $22,827,228 over the next 10 years to maintain the area's 389 miles of existing dirt roads, according to a presentation by Hanson and his staff.
Meanwhile, former dirt roads with millings — also known as "reclaimed asphalt pavement" (RAP) — applied are lasting 12 to 15 years with no ongoing maintenance, the presentation showed. According to the Federal Highway Administration, about 90 million tons of asphalt pavement are reclaimed as millings each year.
Before the discussion was over, voices were raised and emotions ran hot at the dais and in the public gallery, especially among 94th Street North residents who have been battling via dueling petitions over the future of their two-mile dirt road, which offers scenic views of the J.W. Corbett Wildlife Management Area.
But some ITID officials are saying that such rural ambiance is running into the hard reality of district finances.
"Many people moved out here to live on a dirt road, and I was one of them," said Supervisor Elizabeth Accomando, who lives in the rustic Santa Rosa Groves neighborhood. "But when you consider the financial responsibility of maintaining them, you're looking at millions and millions of dollars."
Hanson said continuing to grade and otherwise maintain the district's dirt roads "is just not financially viable because of the increased traffic, especially on longer roads."
In the long term, maintaining almost 400 miles of dirt roads "makes no sense," he said.
ITID staff recommended two key changes to the district's millings policy: use millings on all unimproved roads that are not designated for R-2 or R-3 asphalt improvements, and eliminate the ability of residents to block a road's milling via petition.
The latter drew the immediate ire of ITID Vice President Betty Argue.
"We have not adopted a policy to mill the whole district," she told Hanson. "Millings may be a better path forward… [but] at the end of the day, residents should have a voice. They should have a choice."
Argue also questioned the district's ability to handle an all-out milling program, even if the board were to support it.
In the end, the discussion was tabled until the board's Wednesday, Aug. 16 meeting.
In other business, the supervisors asked ITID staff to draft a letter to the Palm Beach County Commission and developer GL Homes expressing their opposition to the construction of a 200-acre off-highway vehicle (OHV) park and campground at the Indian Trails Grove property west of The Acreage.
GL Homes agreed to build the park as a last-minute add-on to the major land-swap deal approved last spring. The add-on was pushed by County Commissioner Sara Baxter. ITID supervisors enthusiastically supported the land-swap plan but say they were not told about the OHV park.
"We supported the swap because it would reduce traffic on Seminole Pratt Whitney Road and other county and ITID roads," Argue said. "But this will generate more traffic from outside the area… [and] create a playground for people from far away."
"A lot of people who want the park don't live here," Accomando said. "I don't see it being a benefit to our residents."
Accomando, who lives near the proposed site and had tacitly supported it, said she reconsidered after hearing from more and more of the area's residents who oppose it. "How can I support it? I represent them," she said.
Argue suggested that ITID, the county and the environment would be better served by GL Homes building out the 640 acres it has promised for a water storage area. "That would solve a lot of problems," she said.
The other issue, Argue added, is that even if the OHV park is built, it's uncertain who would be willing to manage it, considering the enormous liability inherent in such an operation.
"If the proposal goes through and no one comes in to manage it, then we get nothing," she said.
Baxter is planning a community meeting to discuss the park with ITID residents, but no date has been set.