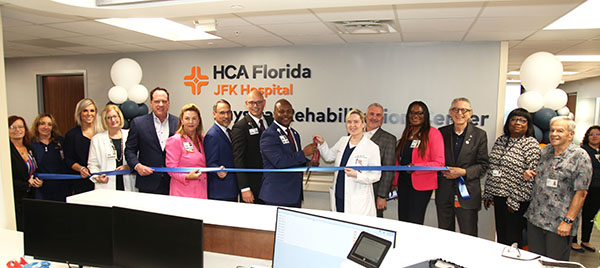 HCA Florida JFK Hospital recently announced the opening of its new state-of-the-art inpatient physical rehabilitation center.
The 42-bed unit is designed to offer specialized care for individuals recovering from various medical conditions, such as orthopedic injuries, acute cardiac conditions, neurological disorders, stroke and spinal cord injuries.
A multidisciplinary team includes physicians specializing in rehabilitation, specially trained rehabilitation nurses, physical therapists, occupational therapists, speech-language pathologists, dietitians and a diabetic educator.
The new unit features private rooms, a therapy gym and a home care therapy area, specially designed to create a healing and supportive environment. Patients have access to a wide range of therapeutic services aimed at maximizing their recovery and restoring their independence.
"We are thrilled to introduce our inpatient physical rehabilitation center to the communities we serve," JFK Hospital CEO Ken West said. "We understand the challenges individuals face during the recovery process, and our dedicated team is committed to providing the highest level of care and support to help patients regain their strength, mobility and overall quality of life."
Serving Palm Beach County for more than 50 years, HCA Florida JFK Hospital is a 527-bed acute care hospital, specializing in emergency services, heart and vascular surgery, neurosurgery, comprehensive cancer and breast institute services, comprehensive stroke services, orthopedic and spine surgery, minimally invasive and robotic surgery, weight loss surgery and women's services.