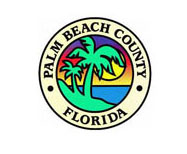 For the seventh consecutive year, Palm Beach International Airport (PBI) has been ranked among the "Ten Best Domestic Airports" by readers of Travel + Leisure.
"We are very honored by this recognition because we take so much pride in providing passengers at PBI with a world-class experience," Palm Beach County Director of Airports Laura Beebe said. "PBI has the most affordable parking of any South Florida major airport, among the shortest TSA screening times of any domestic airport and nearly every budget-friendly airline operates here. It's the closest and most convenient airport for everyone in the Palm Beaches and Treasure Coast."
Palm Beach International Airport was ranked No. 8 on the publication's list, which asked readers to consider factors such as access, check-in/security, restaurants, shopping and design.
PBI recently experienced a record number of passengers traveling through the airport — 7.22 million in a 12-month period. In May, the number of passengers increased more than 16 percent from May 2022.
A major expansion is presently underway of Concourse B, which will result in two additional passenger jet bridges, a new 3,000-square-foot restaurant space, new terrazzo flooring and new carpeting, an elevated ceiling with glass that reduces heat and glare, an integrated nursing suite, a sensory room for travelers with autism and other sensitivities, expanded restrooms and more.
Learn more at www.pbia.org.