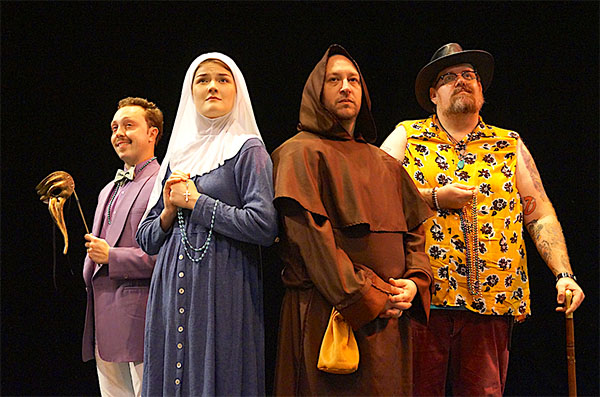 The Palm Beach Shakespeare Festival invites everyone to join them for a summertime tradition with the opening of Shakespeare by the Palms III production of Measure for Measure, presented by the Village of Royal Palm Beach, July 20 through July 23 at the Royal Palm Beach Commons Park amphitheater, located at 11600 Poinciana Blvd.
Featuring a lively, Mardi Gras setting, Measure for Measure opens as vice is running rampant in the city. The Duke has set off on mysterious business, leaving the affairs of state to his trusted minister, Angelo, with instructions to enforce discipline as he sees fit. Quickly, Angelo takes that enforcement to extremes, and when young Claudio is arrested, it falls to Claudio's friend Lucio to send help in the form of young novice, Isabella. When the price of Angelo's freedom is not what Isabella is willing to pay, the Duke comes up with a plan to save Claudio while revealing Angelo's hypocrisy.
Gates open at 6:30 p.m. Performances start at 8 p.m. and end at 10 p.m. with a 15-minute intermission. Visitors are invited to bring a beach chair, blanket and picnic basket. Admission to the festival is free with a suggested donation of $5 per person.
The Palm Beach Shakespeare Festival is a nonprofit professional theater company dedicated to enhancing the accessibility and appreciation for Shakespearean, classic and contemporary theater for all ages and socioeconomic levels. For more information, visit www.pbshakespeare.org.