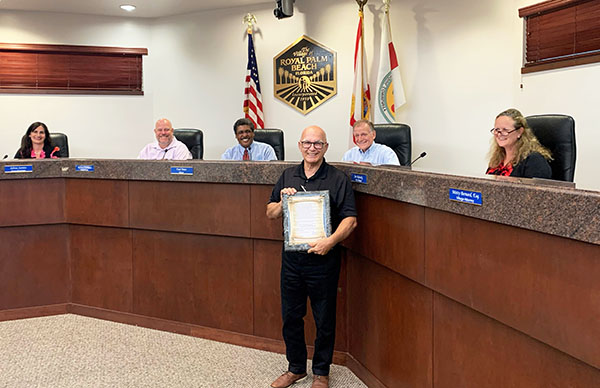 The Village of Royal Palm Beach held a budget workshop on Thursday, July 6, giving the Royal Palm Beach Village Council its first formal look at a proposed $84.6 million spending plan for the next fiscal year, starting Oct. 1.
The budget leaves the village's tax rate of 1.92 mills unchanged from the current fiscal year, although rising property values means that residents could pay more for village services next year.
Village staff members were present to provide updates for each department and answer questions regarding proposed budgetary changes. Village Manager Ray Liggins summed up the expectations for fiscal year 2024.
"The good news about this budget is we did have a good year in 2023. Our revenue streams were up more than predicted, so we did end with a carryover of well over $4 million that is going to be carried over into fiscal year 2024," Liggins said. "It does for us something that it hasn't done in a long time. Between that transfer and the American Rescue Plan Act funding, we're not using any reserves to balance this budget. We are even transferring $3.5 million out of the operating fund into the capital fund."
New Finance Director Sharon Almeida provided an overview of the budget prior to staff breaking down individual sectors. She noted that the total proposed 2024 budget comes in at $84,551,978.
"Of that budget, the general operating is about 39 percent. The capital budget is about 47 percent. Stormwater is about two percent, and then we have reserves at 12 percent," Almeida said. "Property values are projected at a 10.91 percent increase over the prior year. The millage rate of 1.92 will remain constant, and consumption-based revenues have increased five percent."
Almeida provided examples to clarify how the ad valorem taxes would appear for homes at different values. A home valued at $186,000 for tax purposes, with a homestead exemption, would pay a village tax of $261. Property valued at $261,000 and $337,000 would see bills of $405 and $551, respectively, after homestead exemptions.
"The main message that we like to give to the public is when you get your tax bill, Royal Palm Beach is about 10 percent of that tax bill," Liggins said. "We're in good shape. We are financially sound. When we do our fiscal reports every year in February, our auditors tell us the year 2023 is projected to be very positive, and 2024 looks like a positive year, too."
Regarding projected revenue and expenditures for 2024, the general fund is proposed at over $33 million in both categories. Revenue is generated by property taxes (23 percent) and other taxes and fees (20 percent), such as gas taxes, utility service fees and communication taxes. The next largest revenue generators are license and permits (14 percent) and intergovernmental (16 percent). There is an expected fund balance of 13 percent.
As for expenditures, 39 percent are personnel services and 33 percent are contractual services. The contractual services are dominated by the village's contract with the Palm Beach County Sheriff's Office. The $3.5 million transfer noted by Liggins is 11 percent of expenditures.
"Just to give you a summary of the highlights of the expenditures, merit adjustments are projected at an average of 3.8 percent for all employees. We budget a cost-of-living adjustment at 5.5 percent," Almeida said. "There are some position changes proposed. Public Works, with the addition of one full-time electrical helper, and then one spray technician is split between the Public Works general fund and the stormwater fund. In Parks & Recreation, we are reclassifying the public information specialist to the Village Manager division. The public arts professional is being reclassified to the Planning & Zoning division. A general maintenance worker is being reclassified as a skilled trades worker, and one of the general maintenance worker positions is being eliminated."
Almeida added that the eliminated position is currently vacant. She also noted that health insurance premiums are still in the negotiation process and projected with an increase between five and seven percent.
In the general fund, the PBSO requested a three percent increase, and the council's fund went up by less than $1,000. The largest non-departmental increases came in the form of property insurance hikes — an issue that is being felt by property owners across the state.
"We went from $550,000 to $1 million budgeted. We are not happy about that," Liggins said. "We are re-evaluating what we are insuring and what we are insured for. We can't be self-insured, or we can't get help from FEMA. Our loss over the last 20 years is less than one million. The insurance company, of course, says it's not your past, but your future risk and the value you are insuring. We are going to relook at property in the open, playground equipment and everything in the parks outside. We are going to get that number down."
Liggins noted other reduction strategies, such as increasing deductibles. "We are in a coastal county, even though we are seven miles inland, so there are some obstacles we can't remove," he said.
In addition to the general fund, the stormwater expenditure summary is proposed at $1,436,138 and capital improvement funds are budgeted for $49,935,240. The latter includes American Rescue Plan capital projects, such as the Village Meeting Hall renovation. There are also plans to increase pedestrian and bicycle access to areas like the Pond Cypress Natural Area and the Grassy Waters Preserve.
"As usual, all of you have done a tremendous job putting our budget together. I think we are still on the right track and keeping the train running in the right direction," Mayor Fred Pinto said.
In other business:
Parks & Recreation Director Lou Recchio was presented with a plaque and proclamation to mark July as National Park and Recreation Month, as noted by the National Recreation and Park Association and the Florida Recreation and Park Association.
The next municipal election was moved from the second Tuesday in March to the third. It will now take place on Tuesday, March 19, 2024, in conjunction with the Presidential Preference Primary Election. The qualifying period for candidates was set as the first seven business days in November 2023. It was also pointed out that residents seeking to vote by mail must re-register their request to do so. Voters should visit www.votepalmbeach.gov or call (561) 656-6208 for additional information.