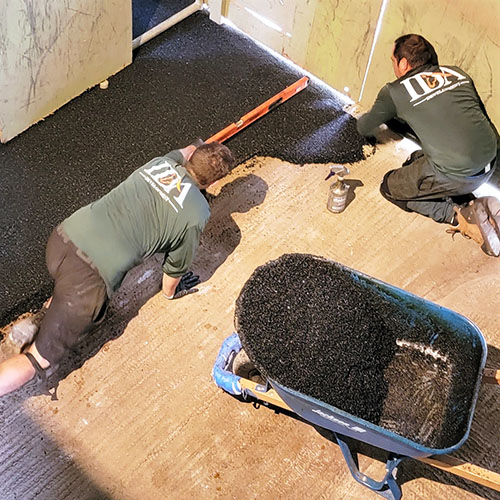 IDA Development, experts in providing high-quality equestrian products and services to world-renowned facilities and private barns alike, has taken working with animals to a whole new level. While they have primarily worked with horses, IDA's updated list of clients now includes impalas, greater kudus and scimitar horned oryx — oh my!
IDA Development recently installed 1,600 square feet of Equitan Rubber Flooring in the petting zoo exhibit, exotic hoof stock barn and veterinary hospital stalls at Lion Country Safari.
"This was an exciting new project for us, and we're proud of the work we did to make Lion Country Safari more comfortable for the animals," said Harry Knopp, owner of IDA Development. "The well-being of the animal is our priority, whether it's a dressage champion, an Olympic jumper, an alpaca or a tortoise."
Safari officials were pleased with the project's success.
"IDA Development was very accommodating and easy to work with," said Jen Rucker, assistant curator at Lion Country Safari. "They were professional, flexible and willing to work around our animal needs when it came to scheduling. We look forward to more projects with IDA Development in the future."
The one-inch-thick, cushioned Equitan flooring is safe and seamless. It provides excellent shock absorption and is easy to clean. It can be utilized at a major equestrian facility, a world-class attraction such as Lion Country Safari, or in a private custom barn.
"From kudu to zebra, IDA flooring has provided solid footing for all of the animals under our care, and it is easy to clean with a hose or pressure washer," said David Backus, lead keeper at Lion Country Safari. "I wish I could put IDA flooring everywhere."
With more than 30 years of experience, IDA Development can make all your custom-building dreams come true, whether it's a barn or home, all-weather outdoor arena, covered arena, mirrored arena, steel building or steel barn. As a full-service provider, IDA walks clients through each phase of the planning and construction while meeting individual needs, timeline and budget.
IDA Development's latest venture, IDA Steel, focuses on building prefabricated metal horse barns, as well as a covered steel riding arena designed to the clients' specifications and built in virtually any dimension. These products can easily be designed to the clients' specifications, built in virtually any dimension, and installed anywhere in the country cost effectively.
For more information about IDA Development, visit www.idadevelops.com or contact Harry Knopp at (561) 486-0502 or harrylknopp@me.com.
Lion Country Safari opened in 1967 and was developed with the goal of bringing the African safari experience (then, and now, an expensive and time-consuming trip) to families who would otherwise not be able to experience this type of adventure. The park prides itself on caring for large social groups of animals, including some of the largest herds of zebra, giraffe and rhino on record in North America, in wide open, natural habitats. To learn more about Lion Country Safari, call (561) 793-1084 or visit www.lioncountrysafari.com.