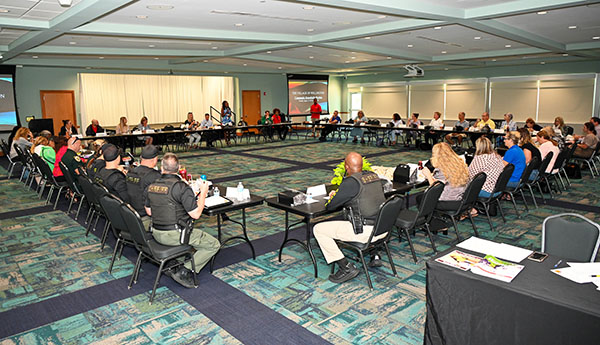 The Village of Wellington hosted its much-anticipated Community Partners Roundtable on Tuesday, Aug. 15. The event took place in the Grande Ballroom at the Wellington Community Center, providing a collaborative platform for various community members to come together and discuss shared goals and initiatives.
The Community Partners Roundtable served as an opportunity to foster connections, share insights and develop strategies that will have a positive impact on the local community. Representatives from a diverse range of organizations were in attendance, each bringing their unique perspectives to the table.
The group engaged in meaningful discussions, exploring avenues for collaboration and partnership that will further enhance the well-being of the community. The roundtable showcased the collective dedication of these organizations to working together to create a stronger, more vibrant Wellington.
"The Village of Wellington is honored to have brought together such an incredible array of community partners," Wellington Community Services Director Paulette Edwards said. "This event marks a significant step toward building a unified vision for the future of our village, one where collaboration and mutual support lead to lasting positive change."
The roundtable was deemed a resounding success, setting the stage for continued engagement and collective efforts that will shape Wellington's future.
Some of the community partners who RSVPed to the event include: Lisa Noel of the American Cancer Society; Monica Kallas of Around Wellington; Maggie Zeller of Back to Basics; Latricia Jenkins of the Boys & Girls Club; Debra Jackson, Marcia Hayden and Alma Henry of the Crowned Pearls; Deborah Feinsinger of Digital Vibez; Maria Antuña of the Hispanic Chamber of Commerce; Susan Foley of the Palm Beach County Behavioral Health Coalition; Amanda Vomero of Palm Beach County Fire-Rescue; Roy Gonzalez, Nichole Addazio, Robert Humphrey, Matthew DeJoy, Casey Lussier, Jen Baker and Harold Harper of the Palm Beach County Sheriff's Office; Brianna Perissien of Premier Health; Cory Britt of St. Peter's United Methodist Church; Donna McDermont of St. Rita Catholic Church; Vicki Ward and Rabbi Andrew Rosenkranz of Temple Beth Torah; Dawn Rivera of the Wellington Community Foundation; Gemma Ford and Tracey Kouf of Wellington High School; Sue Bierer of the Wellington Historical Society; Pamela Rada of Wellington Regional Medical Center; and Donald Gross and Walter Imperatore of the Wellington Rotary.
For information and updates on upcoming collaborative initiatives, visit www.wellingtonfl.gov.