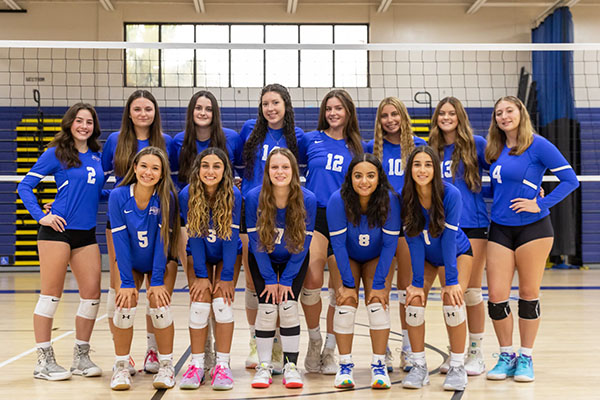 A new head coach is leading the girls varsity volleyball program at Wellington High School. His name is Bill Irmiter, and while he may be new to the program at WHS, he's not new to the sport of volleyball in Wellington.
Last fall, Irmiter was the girls junior varsity coach at WHS. In prior years, he coached the girls junior varsity volleyball team at Palm Beach Central High School for four years, and he served as the head coach of the PBCHS boys varsity volleyball team for one year. He also has experience coaching at the travel volleyball level. For five years, he was the head coach of the Tribe Treasure Coast for various girls teams.
Irmiter has 13 players on his squad. Each player has a role to play in order for the team to have a winning regular season record and a deep postseason run in the Florida High School Athletic Association's volleyball state playoffs.
Sophomore Olivia Berman has a huge upside. "Olivia is a strong outside [hitter] with much talent," Irmiter said. "As a sophomore, she will become very good."
When sophomore Nicole Koch steps on the court, she raises her game an extra gear. "Nicole's energy is unmatched, and she has much ambition to perform well," Irmiter said.
Jillian St. Leger is a very talented player. "Jill is a superstar freshman," Irmiter said. "Her backrow ability and all-around play is amazing."
Senior Roelis Rodriguez has a positive, team-first attitude. "Roelis has the determination to be the best she can be for herself and her team," Irmiter said.
Avery Trieste, a defensive specialist, is all business when she plays volleyball. "Avery makes being on the court a great time with a great level of focus," Irmiter said.
Sophomore Faith DiMaria is one of the team's two main setters. "Faith is vital to the team in many ways," Irmiter said. "She makes sure we are on the right track, as well as always seeking to improve her game."
Junior Maddie Lee's volleyball intelligence sets her apart from other players. "Maddie's volleyball IQ is unmatched," Irmiter said. "She is one of the leaders on the team. Her attitude and determination are the some of the best I have seen."
Senior Ana Contreras is a middle hitter with a strong mental focus. "Ana's ability to find the ball and put it into good locations to score points is unmatched," Irmiter said. "Her level-headedness and focus during games are what helps the team be grounded."
Senior Tegan Miller is another middle hitter who simply loves to play volleyball. "Tegan's passion for the game and competition is what drives this team," Irmiter said. "She will always be uplifting the team and making sure that we do everything that is possible to walk out with a win."
Junior Grace Kouf is an opposite hitter who has a strong mental game. "Grace is super uplifting and is always doing what she can to make herself better on and off the court," Irmiter said.
Senior Logan Seal is a talented opposite hitter. "Logan controls the game through her stellar game play and the ability to make great plays out of tough situations," Irmiter said. "Her IQ for volleyball will always go unmatched."
Junior Brielle Dorish is an outside hitter who plays with heart and determination. "Brielle is one of the main leaders on the court," Irmiter said. "She will always be the one holding the team accountable and making great plays happen all the time."
The captain of the team and the "coach" on the court is senior outside hitter Ava Rodgers. Irmiter is looking for leadership from Rodgers in practice and in games.
"Her role is much more than being an influence on the court," Irmiter said. "Her job is to be sure that she holds the team responsible for things while I run practice. The standard she holds for her team is never questioned. She does the best job possible while always improving her leadership skills in being captain of the team."
As a coach, Irmiter wants his team to win and to win well.
"My goal as a coach for this team is to win and create a great team unity that will hopefully bring us many victories this season," Irmiter said. "Developing your people is more important than developing skills. If you have good people, the skill overall will increase with the team."
Irmiter said he learned a great deal about his team from his squad's two pre-season matches.
"With the first preseason game, I learned who works well together and what situations my players are capable of playing in," Irmiter said. "We played St. John Paul, which always has a good program. It was a great, close game with each set being within points of each other. This was the time I was able to see the leaders play and influence the team."
Irmiter is optimistic that his squad will have a memorable season, which is always important for the seniors on the squad. "We have the potential to be one of the top teams this year," he said.
All 13 players and their coach are on the same page when it comes to team goals and how to achieve them.
"I like to have open communication with our goals as a team and what that looks like for each player," Irmiter said. "We all have bought into our goals and know what the mission of our team is. These first weeks are vital to the development of the team. As a coach, having a team that meshes well will make the season yield good results. I am super excited to see where the season will end up for us."