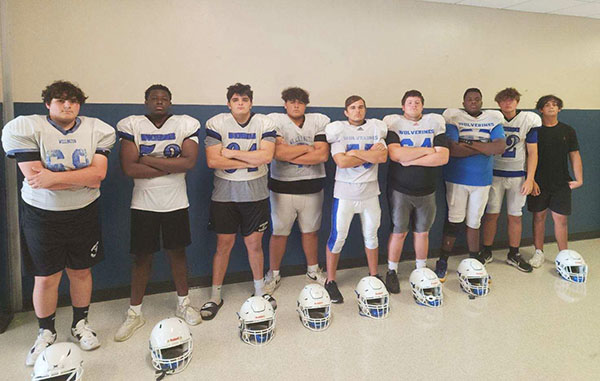 This year marks the start of a new chapter in the Wellington High School football program. Entering the upcoming season, there is a new head coach and many new players on the squad.
The new head coach is 27-year-old Ross Pryor, who has been an assistant coach at WHS for the last three years. Meanwhile, 49 players who were on last year's team are not members of this year's squad — 29 graduating seniors and 20 underclassmen who have transferred to other high schools.
According to Pryor, he has inherited a group of young, coachable and enthusiastic players.
"We will probably be the underdog in every game, and I'm OK with that," said Pryor, who was named head coach in March. "So far in practice, our players are learning, have lots of energy, are having fun and they are enjoying being a part of this team."
Pryor and his staff of coaches have strong numbers — more than 90 players — at practice. He expects 50 of them to play varsity football this fall. The remaining players will be on either the junior varsity team or the freshman squad.
There are a number of talented players from whom Pryor is expecting on-the-field productivity. They include sophomore quarterback Jonathan Paul, sophomore running back Tyree Pearson, senior long-snapper Carson Perusse, senior wide receiver/defensive back Andre Powell and senior placekicker/punter Cameron Romano, who has successfully kicked a 53-yard field goal in practice.
According to Pryor, Paul is very similar to Ryan Anthony, Wellington's quarterback for the last three years, who graduated in May.
"Paul reminds me a great deal of Ryan Anthony, and that's a big deal," Pryor said. "Paul is starting to be more vocal in practice, which is important."
Another part of Wellington's team that must rise to the occasion this year is the offensive line, coached by veteran offensive line coach Alan Lawson.
There are nine players on Wellington's offensive line roster. Their job will be to keep the quarterback safe and secure. If each offensive lineman does his job, the Wolverines may well string together more wins than losses.
Those offensive linemen are senior William Stepp, freshman Ari Carranza, freshman Jonathan Struthers, sophomore Freddi Thermitus, sophomore Jake Torres, junior Landon Brodeur, junior Connor Olivares, freshman Ayden Lombardo and junior Jonathan Ciceron.
"They set the tone for the team, and their conduct on and off the field reflects their character," Lawson said.
According to Lawson, each of the offensive linemen is a valuable member of the team.
"Stepp is a leader and has the heart of champion with no quit in him," Lawson said. "He is the smallest on the line at 195 pounds, but he plays like a 300-pound player."
"Carranza is 300 pounds and moves like the wind. He will be the best lineman in the southeast when he's a senior," Lawson said. "He doesn't know how good he is yet, and I cannot wait for when that day comes."
"Struthers is a first-year player, but you wouldn't know it," Lawson said. "He is 6-foot-2 now as a freshman. He is tough, strong, attentive and has what it takes to be a great football player."
"Thermitus has a quiet intensity and is very well liked by his teammates," Lawson said. "He is learning quickly and challenges himself every day at practice. His attitude is tremendous."
"Torres pushes himself to excel every day," Lawson said. "He will be one of the toughest linemen in the state over the next three years."
"Brodeur is just tough as nails," Lawson said. "He will be all-conference when he is a senior."
"Olivares is as physical as they come," Lawson said. "He is so easy to coach, I feel like I have been coaching this young man for years. He knows his body and knows how to leverage it the right way."
"Lombardo is a first-year player who doesn't realize how tough and strong he really is," Lawson said. "I cannot wait to see when he realizes what he can do in the trenches when that light comes on."
"Ciceron is a second-year starter," Lawson said. "He is one of the leaders on the offensive line. He is always positive. He has a great spirit and is a fine young man."
"We are a young squad, but they play like old veterans and support each other," Lawson explained. "I cannot remember when I have enjoyed coaching so much."
Wellington's preseason kick-off classic game will be Friday, Aug. 18 at Santaluces High School. The season opener is Friday, Aug. 25 at home against Park Vista High School with a 6:30 p.m. kickoff.
Seminole Ridge — Seminole Ridge High School head football coach Chad Chieffalo currently has 73 players at practice. His squad is filled with level-headed playmakers on both offense and defense.
"This year's team has leadership and maturity," said Chieffalo, whose team has 15 starters returning from last year's squad.
For Seminole Ridge, the key players on offense will be his two quarterbacks and his offensive line.
Junior Dylan Reid will be the starting quarterback, and his very capable backup will be junior Garrett Rimes, who will also be playing cornerback on defense. If Rimes is called upon to be the quarterback, Chieffalo has the utmost confidence in him.
The Seminole Ridge offensive line is filled with experienced, talented players, three of whom started last year. Last year's starters are junior left tackle Daniel Pierre Louis, junior right tackle Isaiah Smith and junior left guard Alexander Binda. The other two offensive linemen are two brothers, senior center Mike Jean-Mary and sophomore right guard Nathan Jean-Mary. He expects those starters to open up holes along the offensive line so that the running backs in the team's "Tight T" offense can penetrate the opposition's secondary.
On defense, Chieffalo is expecting another banner year from junior middle linebacker Ty Jackson.
"Last season, as a sophomore, Ty established a new school record for tackles with 138," said Chieffalo, who won't be surprised if Jackson breaks his own record this season.
Jackson is already being courted by a number of prominent NCAA Division I programs, such as the University of Tennessee.
Seminole Ridge's preseason kickoff classic game will be Friday, Aug. 18 at Martin County High School in Stuart. The season opener is Thursday, Aug. 24 at home against Glades Central High School. Kickoff is at 6:30 p.m.
A year ago, Seminole Ridge traveled to Belle Glade and emerged victorious.
"We won last year at Glades Central by throwing one pass, and it was for a touchdown," Chieffalo recalled. "We played the entire game in the 'Tight T' offense."
Between now and the season-opener, Chieffalo and his staff of four assistant coaches — Alex Locker, Morgan Roland, Jake Jones and Ethan DiBerardino — will be working to bring clarity to the depth chart.