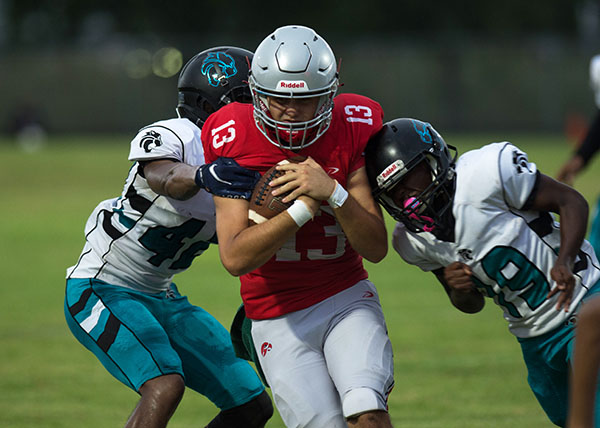 The high school varsity football teams from Palm Beach Central High School and Seminole Ridge High School are off to perfect 2-0 starts going into the third week of the season.
The Palm Beach Central Broncos appear committed to repeating their strong performance last season when the team reached the Florida High School Athletic Association (FHSAA) Class 7A state semifinals.
The Broncos opened this season with a pair of big road wins. On Friday, Aug. 25, Palm Beach Central traveled north to play highly touted Creekside High School near Jacksonville. It was a prolific offensive display by both teams. The Broncos emerged victorious, 55-48.
Six days later, on Thursday, Aug. 31, the Broncos won their second game of the season when they traveled south to Boca Raton High School to play the Bobcats. The Broncos prevailed again, 35-21.
The Broncos will pursue their third victory in as many games when they play their home opener on Friday, Sept. 8 against the Park Vista High School Cobras. On Thursday, Sept. 14, Palm Beach Central hits the road again for an away game at Pahokee High School.
According to Palm Beach Central head football coach Kevin Thompson, the key to his team's two road wins has been the willingness of his players to listen and learn from their coaches.
"Our early success has come from the coaches really helping and coaching a very young team and trying to get them to buy into our standard here at Palm Beach Central," Thompson said.
The key players on offense for the Broncos have been wide receiver Nedrick Boldin and wide receiver/running back Ze'Quan Wright, while the key player on defense has been cornerback/free safety Tony Williams.
The Seminole Ridge Hawks opened up their current season with a pair of back-to-back Thursday night games at home.
On Thursday, Aug. 24, Seminole Ridge hosted Glades Central High School. Led by a spirited and disciplined defense, the Hawks defeated the visiting Raiders, 20-9. A week later, on Aug. 31, the Hawks welcomed the Wildcats from Royal Palm Beach High School. With the assistance of another strong, aggressive, stingy defense, the Hawks blanked the Wildcats, 27-0.
The Hawks will be looking to improve their record to 3-0 when they travel to play the Forest Hill High School Falcons on Friday, Sept. 8. The following week, on Thursday, Sept. 14, Seminole Ridge will make another trek to play the Rams from Palm Beach Lakes High School.
The Wildcats (0-2) are struggling out of the gate, as they have yet to score a point in their first two games — a 36-0 loss to Fort Pierce Westwood Academy on Friday, Aug. 25, and the 27-0 loss at Seminole Ridge on Thursday, Aug. 31. Both games were on the road. Despite the setbacks, second-year head coach Chuck Kenyon and his staff remain committed to changing the direction of the RPBHS football program.
"We are a young team that is continuing to head in the right direction. We are starting six freshmen, and they are getting good reps," Kenyon said. "Our coaches are upbeat, and the attitude of our players is very positive. We are battling hard in practice and in games. I'm very optimistic, and I know the wins will come."
The Wildcats' third game of the season was their home opener, when they hosted Suncoast High School on Thursday, Sept. 7. The score was not available at press time. Next week, Royal Palm Beach travels to play local rival Wellington High School on Thursday, Sept. 14.
Like the Wildcats, the Wolverines, led by first-year head coach Ross Pryor, are off to a tough start, but the Wellington team is determined to rebound and recover.
Wellington opened its season at home on Friday, Aug. 25 against the Park Vista Cobras. After trailing 10-0 at halftime, Wellington outscored Park Vista 7-2 in the third quarter, but the Wolverines were unable to score the go-ahead touchdown, and Park Vista won, 12-7.
On Thursday, Aug. 31, Wellington hosted the Tigers from Martin County High School. It was a tough game for the Wolverines, who trailed 42-7 at halftime. Despite holding Martin County scoreless in the second half, Wellington could only muster six second-half points. Martin County won, 42-13.
The Wolverines (0-2) resume play on Friday, Sept. 8, when they go on the road to play the Falcons from Jensen Beach High School (2-0). On Thursday, Sept. 14, Wellington hosts local rival Royal Palm Beach.
Despite the tough start to the season, Pryor remains committed to getting his team to properly execute the fundamentals in practices and in games.
"After two games, my biggest takeaway is that we had a ton of mental mistakes," Pryor said. "We are young and are improving. Last week [week one] to this week [week two], we made some major improvements in being disciplined. I think that we are starting to hit our stride and are playing better and will continue to do so."
After two weeks, the King's Academy Lions have proven that they can score points in bunches. In their season opener on Friday, Aug. 25, TKA traveled to Boca Raton to play St. Andrew's School. Unfortunately, TKA lost a 55-54 nailbiter to the Scots. But a week later, on Friday, Sept. 1, the Lions rebounded at home by blanking Glades Central, 43-0.
On Friday, Sept. 8, TKA (1-1) travels to Boynton Beach to play Somerset Academy Canyons. The Lions return home on Friday, Sept. 15 to play John Carroll Catholic School from Fort Pierce.
The Berean Christian School Bulldogs (0-1) began their season with a road game in Sarasota against the Out-of-Door Academy Thunder on Friday, Aug. 25. The Bulldogs suffered a tough 42-0 defeat. Berean's second regular season game on Friday, Sept. 1 at home against the Oxbridge Academy was postponed.
The Bulldogs' next game will be Friday, Sept. 8 at 4 p.m. against the St. Edward's School Pirates from Vero Beach. That game will be the first-ever on-campus football game in Berean's history.
According to Berean Athletic Director Dean Hendricks, the school plans to celebrate the occasion with some alumni spotlights during halftime.