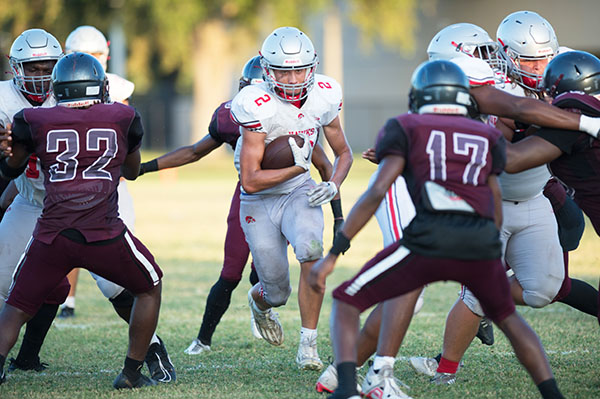 After four weeks of play, the varsity football teams from Palm Beach Central High School and Seminole Ridge High School remained undefeated on the season — Palm Beach Central with a 3-0 record, and Seminole Ridge at 4-0.
The strength of the Palm Beach Central Broncos is its offense. After the first three games, the Bronco offense, led by sophomore quarterback Caleb Butler, has averaged nearly 42 points a game. The defense has been a "bend, but not break" defense, which has allowed an average of 33 points a game.
The most recent thriller was a 33-30 overtime victory on Thursday, Sept. 14 on the road against Pahokee High School. Palm Beach Central's Nedrick Boldin scored the game-tying touchdown on an eight-yard scamper with just over three minutes left in the fourth quarter, and then he scored the game-winning touchdown on a one-yard run in Palm Beach Central's third offensive play in overtime.
On Thursday, Sept. 21, Palm Beach Central pursued its fourth win in a row when the Broncos hosted Park Vista High School in a game which was originally meant to be played on Sept. 8, but was postponed due to a COVID-19 outbreak on the Park Vista team. On Sept. 29, the Broncos will hit the road again when they travel to Greenacres to play John I. Leonard High School.
Seminole Ridge is off to another great start. The Hawks' defense has been stellar. After four games, the defense has recorded three shutouts: 27-0 against Royal Palm Beach High School on Aug. 31, 24-0 against Forest Hill High School on Sept. 7 and 34-0 against Palm Beach Lakes High School on Sept. 14. The only points which Seminole Ridge has given up were nine points in a 20-9 victory against Glades Central High School in the first game of the season.
Seminole Ridge head coach Chad Chieffalo's team is idle until the end of September. On Sept. 29, the Hawks will pursue their fifth win in as many games when they host John Carroll Catholic School from Fort Pierce. That will be the homecoming game for Seminole Ridge.
Wellington vs. Royal Palm Beach — The Wildcats from Royal Palm Beach High School and the Wolverines from Wellington High School have had very similar starts to the season. After four games, both teams have identical 1-3 records.
Royal Palm Beach opened its season with a pair of defeats. In week three, the Wildcats defeated the Chargers from Suncoast High School 21-7 on Sept. 7 to get their first win of the season. On the other hand, Wellington, under first-year head coach Ross Pryor, started 0-3.
In week four of the season, the Wildcats and Wolverines played one another on Thursday, Sept. 14 in Wellington. Royal Palm Beach, under second-year head coach Chuck Kenyon, was looking for two wins in a row, while Pryor's team was focused on getting its first win of the season.
In the game, Royal Palm Beach led 7-6 after the first quarter, courtesy of a 64-yard kickoff return for a touchdown by freshman Demetrice Rolle. But Wellington responded with a 10-point second quarter to take a 16-7 halftime lead. After the Wolverines kept the Wildcats scoreless in the third quarter, Wellington could sense a victory, but it was far from a done deal.
Earlier in the fourth quarter, Royal Palm Beach scored a touchdown, and successfully scored a two-point conversion to narrow the score to one point, 16-15. In the game's waning minutes, Royal Palm Beach quarterback Landon Earl led his team on what would have been a go-ahead and, most likely, game-winning drive. The Wildcats reached the Wellington 23-yard line and simply ran out of time, giving Wellington its first win of the season, 16-15. It was also the first win for Pryor as a head coach, who was thrilled that his team was victorious.
"After the game, I told them that it is great to win and to remember and embrace this feeling, but also that we should have won by plenty more than we did," Pryor said. "We had a ton of penalties that continued to hurt us."
Despite the 1-3 start to the season, Pryor said that there is time for his players to rally and play postseason football this fall. "Every goal that we want to achieve is still there for us," he said.
After a bye week on Sept. 22, Wellington will look to add to its win total on Sept. 29 when the Wolverines host Forest Hill High School.
Wellington will use the bye week to reassess its depth chart.
"This week, we are going to look within and see what each position group needs to improve on and what each player needs to improve," Pryor said. "We are going to change the depth chart and have some guys in front of others and see who responds the right way."
The Wildcats return to the gridiron on Sept. 22 at Santaluces High School, and then host Jupiter High School on Sept. 29.
Big Wins for TKA — The King's Academy Lions have rebounded and responded like champions after opening the season with a disappointing 55-54 loss on the road in Boca Raton against the St. Andrew's School Scots on Aug. 25. Since then, the Lions have won three in a row to improve their record to 3-1. Their most recent win was a 39-13 win against John Carroll on Sept. 15. The Lions will look for two more victories in the coming weeks when they host Gulliver Prep from Miami on Sept. 22 and Pope John Paul II Academy from Boca Raton on Oct. 6. TKA has a bye week on Friday, Sept. 29.
Tough Time for Berean — The Berean Christian School Bulldogs remain scoreless and winless after three games. The Bulldogs (0-3) will look to reverse their football fortunes when they host a pair of home games on Sept. 22 against Lake Highland Prep from Orlando and Sept. 29 against Miami Country Day.