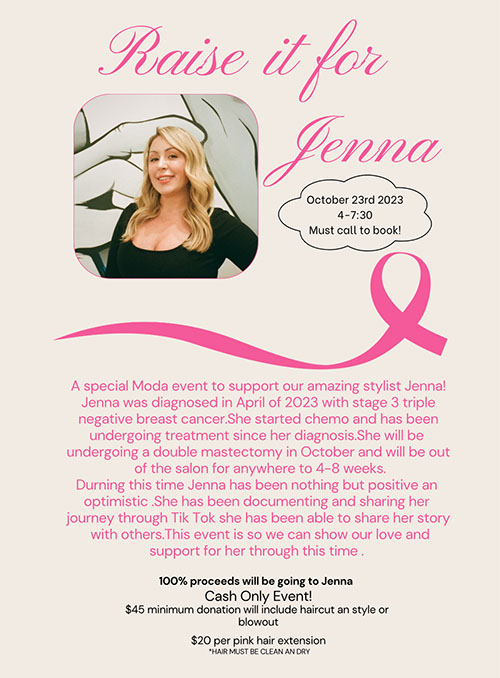 Moda Hair Salon in Royal Palm Beach will hold a fundraiser on Monday, Oct. 23 to benefit a stylist battling breast cancer.
"Raise it for Jenna" will take place Oct. 23 from 4 to 7:30 p.m. The salon is offering haircuts and blow-drys for a $45 minimum cash donation with all proceeds going directly to Jenna.
Attendees must call in advance to book a slot.
Jenna was diagnosed in April 2023 with Stage 3 triple negative breast cancer. She started chemotherapy and has been undergoing treatment since her diagnosis. She will be undergoing a double mastectomy in October and will be out for six to eight weeks.
The Poké Company and Big Rocco's Pizzeria & Tavern will be there with food, as will the South Florida Sweets ice cream cart. Sparked Permanent Jewelry and Boden Babes Bracelets will also be attending.
Moda Hair Design is located at 10475 Southern Blvd. in Royal Palm Beach. For more info., call (561) 753-7888 or visit www.modahairdesign.com.