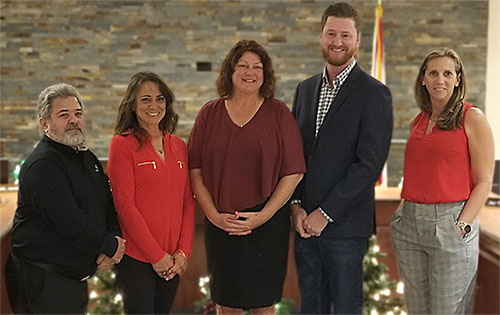 The Acreage Athletic League is still alive and kicking footballs, soccer balls and booting the occasional grounder after a Wednesday, Sept. 20 Indian Trail Improvement District Board of Supervisors meeting to decide its fate.
In question was whether the board would renew the AAL's service provider agreement (SPA) after the organization came under scrutiny over the last year for what some have called unfair management practices. The accusations came in the wake of a split over girls flag football that saw the creation of the Breakthru Athletic League.
ITID Vice President Betty Argue, a longtime supporter of the AAL, made a motion to extend the organization's SPA for two years but there was no second for the motion.
ITID Parks & Recreation Director Kenny Lawrence recommended that the board "consider extending the current SPA for six months, so that the district can have several workshops and properly look at this… I don't want to see the community getting hurt in the middle of all this," he said.
ITID Executive Director Burgess Hanson said that the wording of the SPA itself needed to be reworked to clarify language that likely led to some of the recent friction between the AAL and Supervisor Patricia Farrell, who took office last December.
"There are certain things in these SPAs that don't make sense to require the [AAL] to do," Hanson said. "There are some things where there could be some tightening up… on what's expected from both sides."
AAL President Wendy Tirado said mistakes may have been made, but "that does not render us unreliable or dishonest." She added that AAL's volunteers "embody selflessness and community support."
Tirado, who joined the AAL's executive board in 2016 and became president of the all-volunteer organization last November when Carlos Castillo resigned, said that the AAL is "committed to transparency" and has no reservations about responding to records requests from supervisors.
"I take great pride in assuring that our organization consistently strives to provide a positive, enriching and fun environment," she said. "Retaining our service provider agreement is not merely about maintaining the status quo but about continuing to provide an opportunity for our youth to excel."
Farrell said she would like to see changes but also does not want to see AAL participants suffer.
"I don't want to be hindering you guys. I want to it to be where we're all working together… to make sure the programming in our community is really stellar programming," Farrell said. "The way it is right now and with this SPA, I'm just not seeing it."
In the end, Farrell voted with the rest of the board for a six-month extension, during which time one or more workshops could be held to gauge AAL needs, community sentiment and rework the SPA agreement with the AAL and perhaps more broadly.
"This is not a vote against [the AAL]," Supervisor Keith Jordano said. "This is a vote to make it better."
The AAL has been the district's youth athletics program provider since 1995. Today, it offers girls and co-ed 7-on-7 flag football, tackle football, soccer, baseball, basketball and softball. Approximately 600 young athletes participate in AAL programs overall, Tirado said during an interview earlier this year.
In other business:
The supervisors voted 5-0 to approve a three-year contract valued at $2.7 million with Juniper Landscaping of Florida LLC, piggybacking on a similar contract with the City of Weston.
In supporting the request, Lawrence wrote: "Over the years, the district has experienced tremendous population growth and thus increased usage of all 12 parks, which include modern athletic fields for programs such as football, baseball and multipurpose usage… The current staffing level and expense to create an appropriate level of in-house maintenance standards is not feasible or realistic to meet the level of service expected."
This is especially true at Acreage Community Park's north and south campuses, he noted.
Hanson said he is "very pleased" with the board's decision.
"It's long overdue," he said. "I'm very excited. It frees staff to take on other projects."
Hanson cited the resurfacing of some basketball and tennis courts and repairs to the dock at Coconut Park as targets.
Juniper will handle all maintenance, upkeep and preparation of fields at Acreage Community Park and have staff on site during park hours seven days a week. The firm will also continue to do the basic grass cutting and trimming at ITID's other parks.
The supervisors voted 5-0 to contract with Hartley Construction for changes and improvements to the Nicole Hornstein Equestrian Park on Hamlin Blvd.
The Hartley contract is for $476,850 and will be coupled with a $400,000 federal Land and Water Conservation Fund grant that expires in December. The total cost of the project is expected to be $650,000 to $700,000, Lawrence said. Hanson said the project should take about 45 days and will require the temporary closure of parts of the park.
According to documentation provided by Lawrence, the project scope consists of four major components. The first will include removal of all present material in the main arena and replacing it with new base and footing material.
The second component is the smaller arenas that will include footing improvements. The western arena will increase in size to meet regulation dimensions specifically for barrel racing. The footing will be more appropriate for this type of use but can accommodate other Western disciplines. The eastern arena will have footing specific to English disciplines such as hunter/jumpers.
The third component is the installation of LED lighting throughout the park's arenas and parking lot, while the fourth is the installation of Americans with Disabilities Act-compliant walkways throughout the park, connecting the arenas to the pavilion and parking lot. Additional wash stations will also be added, along with repairs to a shade canopy.
"We're trying to have better footing in all the arenas," said Hanson, a Quarter Horse enthusiast.
Argue questioned whether the main arena would remain suitable for barrel racing and was assured it would be.
"The riders are here and now all we have to do is build a park like they do in Field of Dreams, and they will come," Jordano said.