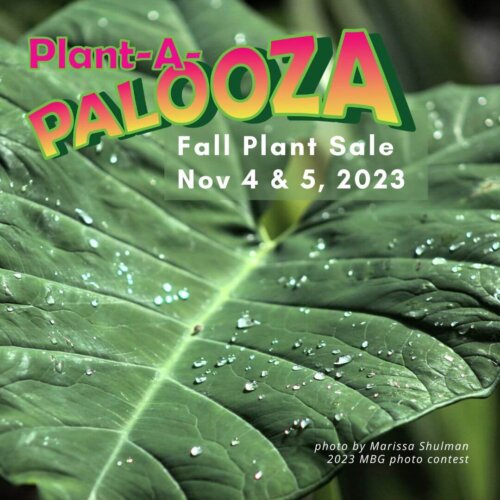 Returning next month with an autumnal horticultural flourish is the always popular Fall Plant-a-Palooza Plant Sale, set for Saturday, Nov. 4 and Sunday, Nov. 5 at the Mounts Botanical Garden.
"This fall fun-in-the-sun plant sale will showcase more than 70 high-quality vendors in select garden areas throughout our 20-acre tropical paradise, offering a great variety of rare, exotic and hard-to-find orchids, plants, trees, herbs, ornamentals, succulents, cactus, bonsai, butterfly/native plants, shrubs fruit trees and more," Mounts Curator-Director Rochelle Wolberg said. "Whether you are an avid gardener or a budding beginner, Fall Plant-a-Palooza offers something for anyone with a green thumb."
The Fall Plant-a-Palooza Plant Sale offers the perfect opportunity to learn about South Florida's plant culture by speaking directly with growers, or by attending one of several fun and informative presentations by speakers and authors, all experts in their respective fields.
Visitors can also browse among horticultural "must haves" and unique treasures in the Mounts Nursery and Vintage Garden Thrift Shop.
In addition, food and dessert trucks will be at the garden both days.
The plant sale is open Saturday, Nov. 4 from 8 a.m. to 9 a.m. for the members-only VIP preview. The sale is open to the general public from 9 a.m. to 4 p.m. on Saturday, Nov. 4, and Sunday, Nov. 5 from 9 a.m. to 3 p.m.
Admission is free for Mounts members, children 5 and under, and AHS reciprocal admission program members. Admission is $15 for non-member adults; $12 for seniors, active military and college students with ID; and $7 for ages 6 to 17.
With a mission to inspire and educate through nature, the Mounts Botanical Garden is Palm Beach County's oldest and largest botanical garden. Visitors to this 20-acre tropical oasis have the opportunity to see an acclaimed collection of 25 unique garden areas containing more than 7,000 species of tropical and sub-tropical plants. The garden is located at 531 N. Military Trail in West Palm Beach. For more information, visit www.mounts.org.