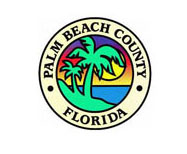 Palm Beach International Airport (PBI) has been recognized as one of the nation's best medium-sized airports by J.D. Power. PBI ranked No. 4 in 2023 on the prestigious J.D. Power list of best mid-sized airports. J.D. Power is a self-described global leader in consumer insights, advisory services, and data and analytics.
"We are honored and thrilled to be recognized by J.D. Power," Director of Airports Laura Beebe said. "This placement underscores our commitment to a world class, stress-free customer experience."
J.D. Power examined food and beverage options at the airport, baggage claim and terminal facilities, among other factors. PBI is currently in the process of adding even more restaurant and retail space as part of the Concourse B Expansion Project. The project will also result in two new passenger jet bridges, expanded restrooms, adult changing areas, a sensory area for those with sensory sensitivities, dedicated nursing stations and more.
The announcement comes two months after readers of Travel + Leisure ranked PBI among the nation's top ten best airports.
PBI continues to experience record passenger volume with nearly 7.4 million passengers traveling through the airport in a 12-month period. The airport also experienced substantial increases in passengers over the last several months with a more than 17 percent increase in July 2023 over July 2022.
Many seasonal flights are returning to the airport in the coming months, including daily direct service to Los Angeles on JetBlue starting Dec. 15. Other seasonal flights returning include service to Minneapolis, Chicago, Houston and Washington-Dulles.
PBI serves more than 7 million passengers annually and offers 200 nonstop flights daily and 13 airlines. As a part of PBI's COVID-19 Preparedness and Response Plan, PBI became an accredited GBAC STAR facility and achieved Airport Health Accreditation by Airports Council International. For more information, visit www.pbia.org.