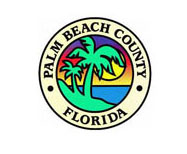 Bring your dogs and watch as they make a splash, get a good workout and meet new friends at Waggin' in the Waterpark on Saturday, Oct. 7 at Calypso Bay Waterpark at Seminole Palms Park, located at 151 Lamstein Lane in Royal Palm Beach.
The fee is $10 plus tax per dog (humans free); two dogs maximum per adult.
The event is broken into 50-minute sessions by size of dog:
Session 1: 10 to 10:50 a.m., dogs 45 lbs. and up.
Session 2: 11 to 11:50 a.m., dogs less than 45 lbs.
Session 3: Noon to 12:50 p.m., dogs 45 lbs. and up.
Registration opens at 9 a.m. and will re-open 30 minutes prior to each session, provided there is still room in the session. All owners must sign a waiver when registering.
You may submit registration forms and proof of vaccines by e-mail prior to the event for approval to Calypso Bay Waterpark's Lindsay Dalton at ldalton@pbcgov.org.
All dogs must have proof of current rabies, DHLP and Bordetella vaccinations on site in order to enter the waterpark. All dogs must wear a collar and license in the pool area. For all other rules, and to download the registration form, visit www.pbcsplash.com.