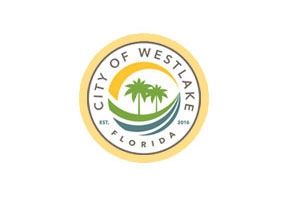 The Westlake City Council gathered for the first time Tuesday, Oct. 3 in their new meeting space at the Westlake Adventure Park Lodge.
"Welcome to the council's new home," Mayor JohnPaul O'Connor said during the 25-minute session. "This certainly is an upgrade."
"We still need to do some tweaking, but I think it went very well for the first time," City Manager Ken Cassel said Wednesday.
The council has been meeting for years in a small building off Seminole Pratt Whitney Road on land provided by Minto Communities USA, the area's largest landowner and developer.
Why the move? Simple, Cassel said. Minto wants to sell that valuable piece of commercial property next to the city's main thoroughfare.
The Lodge — located at 16610 Town Center Parkway North — is controlled by the area's master homeowners' association. The city is renting the meeting space for $500 to $1,000 a session, depending on how much of the expandable room is used.
"It's nice because it's located more in the center of the community," Cassel said. "It can hold 150 to 200 people… [and] it has an integrated sound and large-screen projection system that can be used to show graphics and slides."
Cassel said he hopes the council will someday be meeting in their own space at a multi-purpose building in the new regional park that is under construction on Seminole Pratt Whitney Road south of Seminole Ridge High School. However, that's five to 10 years away, "unless some miracle happens," he said.
In other business:
The council unanimously approved the second reading of an ordinance prohibiting medical marijuana treatment or distribution centers. "The council could come back some day and amend the law, but for now, such businesses are outright prohibited," Cassel said. "This protects the city from any such facility just popping up."
Cassel said that the feeling was that there were facilities close enough that allowing them in Westlake was not necessary. There are medical marijuana centers located in Wellington, Royal Palm Beach and Greenacres, among numerous other locations in Palm Beach County.
The council agreed 5-0 to a request from the Palm Beach County Supervisor of Elections Office to change the city's election deadlines and dates to bring them in line with the county's schedule.
The new dates for qualifying for Westlake's 2024 municipal election are Nov. 7, 2023, at noon, through Nov. 14, 2023, at noon.
The new date for the municipal election is Tuesday, March 19, 2024, to coincide with Florida's Presidential Preference Primary.
Two seats on the Westlake council will be up for election: Seat 1, currently held by Councilwoman Pilar Valle Ron, and Seat 3, currently held by Councilwoman Charlotte Leonard.
The council voted 5-0 to amend its golf cart ordinance to bring it in line with new state statutes that went into place this month.
Councilwoman Charlotte Leonard reported that members of the Black Chamber of Commerce of Palm Beach County will be in Westlake on Wednesday, Oct. 11 as part of a "listening tour," seeking like-minded professionals interested in growing their business. The session will be at the old council chambers at 4001 Seminole Pratt Whitney Road from 6 to 8 p.m.