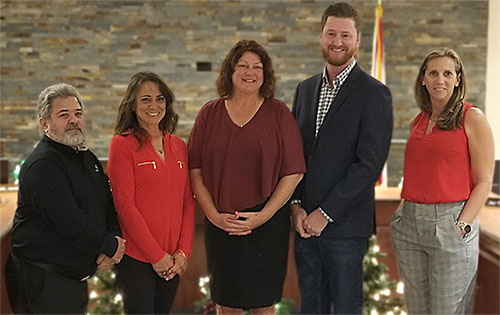 The Indian Trail Improvement District is reshuffling responsibilities of several board members to keep a closer eye on neighboring governments that may be looking to annex parts of the district.
"A lot of movement will be happening over the next year that could impact us," ITID Executive Director Burgess Hanson told supervisors at their Wednesday, Oct. 25 meeting. "We really need to be paying attention."
Palm Beach Gardens already has annexed land at the intersection of Northlake and Coconut boulevards. The Village of Wellington has expressed interest in property at Southern Blvd. and Seminole Pratt Whitney Road north to Harlena Drive, and the City of West Palm Beach could be looking at portions of ITID as a water resource, Hanson said this week.
"We're a prime opportunity for all of them," he said.
Wellington Village Manager Jim Barnes is scheduled to attend ITID's Wednesday, Dec. 6 meeting to address annexation and other issues.
Hanson said he and staff members try to monitor the activities of many of these municipalities and other government units and agencies, but the number of such entities is overwhelming.
Supervisors already have been monitoring some neighboring governments but agreed to expand their role. New assignments were discussed but will not be made final until the Dec. 6 meeting, when supervisors elect the board's 2024 officers. Supervisor Michael Johnson now serves as president, and Supervisor Betty Argue is vice president.
Hanson pointed out that most ITID property is zoned agricultural-residential, but if a municipality such as Wellington were to annex a portion of the district, it could rezone that area as commercial or even high density.
"It's not like they're doing something bad or evil," Hanson said. "But it could have a potential major impact on our roads."
Annexation of large swaths of valuable and very taxable commercial property along Southern, Northlake and Seminole Pratt also could have a bearing on ITID's future more broadly, he said.
"If the board or the community still is open to trying again to convert to a municipality… the tax base is something [state legislators] would look at in terms of whether a municipal government would be sustainable," Hanson said. "It's very difficult to have residential as your primary tax base."
In other business:
ITID staff recommend that 130th Avenue North — a five-mile stretch of dirt road from Hamlin Blvd. just south of Northlake to 40th Street North — be paved as an amendment to the R3 Road Program.
Hanson said that 130th gets a high level of cut-through traffic from motorists avoiding congested Coconut Blvd., and that as the Avenir development along Northlake is built, it will only get worse.
"For the next 10 to 15 years, this whole area is going to be under [Palm Beach County] road construction," he said. "[Excess traffic] is going to keep coming this way until Northlake and State Road 7 are addressed."
SR 7, a major north-south traffic artery, terminates at 60th Street North. It was designed to run along the west side of the Ibis development and connect with Northlake and eventually the Beeline Highway, but the final stretch has been held up for years by environmental lawsuits.
As a result of cut-through and increased local traffic, ITID must grade 130th twice a week, sometimes three times a week depending on weather, which Hanson said is not sustainable.
For those reasons and as "a matter of public safety," 130th should not remain a dirt road, he said this week. However, paving is expensive, and amending the R3 Road Program will be time consuming.
Hanson suggested that applying a thicker than usual layer of asphalt millings to the road along with traffic-calming mats may be a better option.
"We've been talking about this for four years," he said. "What I'd like to do is come back [to the board] in December or January… so that we're looking at a holistic plan."
The board agreed to pay Rosso Site Development Inc. of Lake Worth $275,000 to settle the long-running legal dispute stemming from construction of the Acreage Community Park South Expansion Project. Rosso signed on as the district's major contractor for the project in 2015. ITID later terminated the contract, which brought on the lawsuit.
The board agreed to forego competitive bidding for LED lighting as part of improvements to Nicole Hornstein Equestrian Park. ILS Products of Brenham, Texas, will supply lights for $46,650. The board also agreed to forego competitive bidding for fence panels to be purchased from Nobel Panels and Gates of Milton-Freewater, Oregon, for $80,554.
ITID staff explained that the two firms were the only ones who would guarantee delivery of the needed items in time for construction to be completed by Dec. 31 under the terms of a $400,000 federal grant.
Parks & Recreation Director Kenny Lawrence said the project is on schedule and should finish $100,000 "in the green." Part of the money, he said, will be used to create a portable judging platform — known as a "bird house" — that can be used at multiple arenas in the park.
The board heard about plans for a gas station, convenience store and carwash at the corner of Northlake and Seminole Pratt, and for a mosque at the intersection of Seminole Pratt and 62nd Road North.
ITID has no zoning control over either project aside from determining whether there is enough offsetting water retention area to compensate for runoff. In both cases, there may not be adequate offset, ITID staff determined.
Based on the district's mobility and economic plans, a farm-to-table store plus a fast-food restaurant would be more appropriate for the Northlake site, Argue said.
The Acreage Neighborhood Plan "calls for no fueling stations," she noted. "How many gas stations do we need in this area? The developers think one at every major intersection and on both corners is ideal."
Currently there is one gas station within The Acreage — at the Publix Shopping Center at Seminole Pratt and Orange Blvd. — though another is planned at the intersection of Northlake and Coconut, along with several in Westlake.