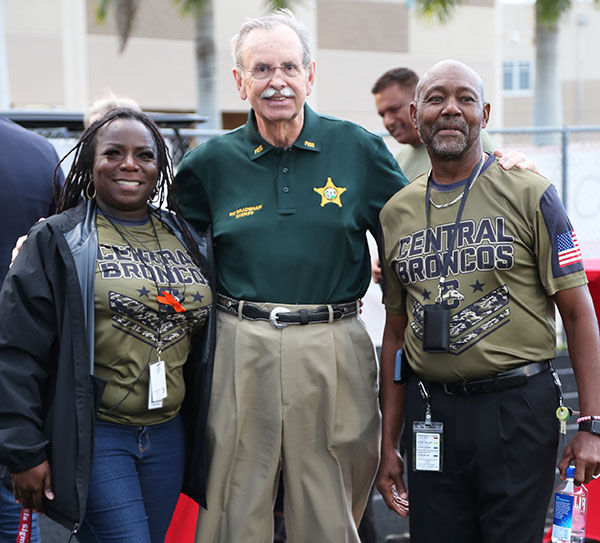 On Friday, Nov. 3, Senior Night at Palm Beach Central High School was a "who's who" of leaders in the western communities. The evening's theme was a "A Salute to Service."
It all started with the coin toss prior to the game between Palm Beach Central High School and the visiting Crusaders from Cardinal Newman High School. The entourage at the center of the field resembled the number of people on hand for the coin toss at the Super Bowl. In addition to the game officials and the team captains, some of the dignitaries present for the coin toss included Palm Beach County Sheriff Ric Bradshaw, Palm Beach County Fire-Rescue Chief Patrick Kennedy, Palm Beach County Sheriff's Office Capt. Nichole Addazio, Palm Beach County School Police Deputy Chief Vanessa Snow, Wellington Mayor Anne Gerwig and more.
After the coin toss, Palm Beach Central honored veterans and active members of the military, as well as law enforcement and fire-rescue people from Palm Beach County. Then, all the men and women in attendance who had served were asked to rise so they could be recognized with a round of applause.
That was followed by a moment of silence to honor those who have paid the ultimate sacrifice in defense of the United States. At the game, there was a salute to those who have lost their lives from the U.S. Army, Navy, Air Force, Marines and Coast Guard, as well as law enforcement and fire-rescue.
Prior to the game's kickoff, the national anthem was sung by PBCHS student Angelina Dowling. Joining Dowling was the PBSO Honor Guard and Mounted Unit. Immediately after the national anthem was a PBSO Eagle Helicopter flyover.
During the game's first quarter, Palm Beach Central welcomed the principals from its feeder schools: Dwan Moore-Ross from Everglades Elementary School, Eli Morales from Okeeheelee Middle School, Dr. Eugina Smith Feaman from Emerald Cove Middle School and Jennifer Galindo from Polo Park Middle School. Members of the Wellington Village Council were also recognized.
The list of PBCFR participants who attended "A Salute to Service" included:
Administrative Staff — Chief Patrick Kennedy, Deputy Chief Kimberly Hude, Division Chief Javatis Midget, District Chief Amanda Vomero, Battalion Chief 34 Thomas Dalman, Battalion Chief 28 Aaron Pribyl, EMS Captain 34 Kyle Myers and EMS Captain 28 Darwin Zelaya.
Truck 29 (Flag Detail) — Capt. Jason Cohen, driver operator Chris McPherson and firefighter/paramedic Chad Cawley.
Engine 30 — Capt. Michael Davila, driver operator Steve Angel and firefighter/paramedic Mark Donahue.
Rescue 30 — Lt. Lee Blane, firefighter/paramedic Chris Coppins and firefighter/EMT Kyle Pond.
Tender 22 — Driver operator and bagpiper Jon Ferguson.
Honor Guard — Capt. Steen Eriksson, Lt. Erika Petite and firefighter/paramedic Michelle Lorenzo.
As for the final score of the football game, Cardinal Newman defeated Palm Beach Central, 28-7.