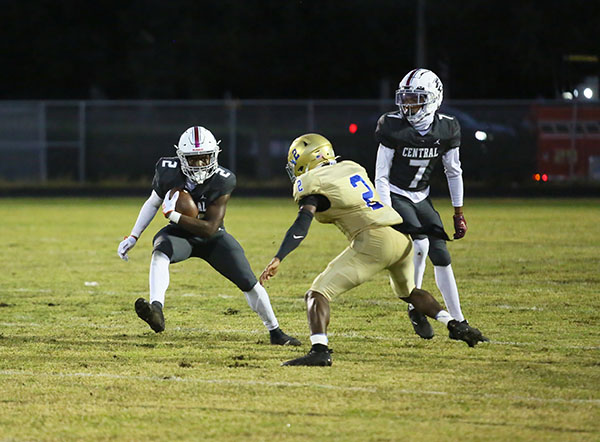 This year's high school football regular season is in the books, and the post-season playoffs are underway. Of the six local schools, three had winning seasons, three had losing seasons and three experienced some post-season success.
Broncos Are Best in the West — The Palm Beach Central High School Broncos have proved to be the best in the west and one of the finest high school football programs in Palm Beach County.
The Broncos concluded their regular season with a disappointing 28-7 senior night loss to the visiting Crusaders from Cardinal Newman High School. Despite the loss, the Broncos finished their regular season with an impressive 8-2 record and were winners of the Class 4M district, which gave them an automatic berth in the Florida High School Athletic Association's Class 4M state playoffs.
The Broncos opened the playoffs on Friday, Nov. 10 with a resounding 36-0 win against the Spanish River High School Sharks. According to head coach Kevin Thompson, the top Bronco players in that game included Nedrick Boldin, Antoine Sharp, Kamare Williams and Waden Charles.
The Broncos' second-round regional semifinal playoff game will be held Friday, Nov. 17, when they host the Bobcats from Boca Raton High School (7-4). Kickoff is set for 6:30 p.m.
To win, Thompson said his team must focus on executing the fundamentals, which includes defensive players making sound tackles, receivers running disciplined routes, and running backs moving with power and speed.
Lions Roar in Playoffs — The King's Academy Lions have had another stellar season. The Lions opened and closed their regular season with a pair of losses. In between, they strung together eight consecutive victories. During the regular season, the Lions won the FHSAA Class 2M, District 9 title, which gave them a spot in the Class 2M state playoffs. On Friday, Nov. 10, the Lions opened their postseason with a convincing 49-7 win against Somerset Academy Canyons. On Friday, Nov. 17, TKA (9-2) will travel to Delray Beach to play American Heritage (8-1). Kickoff is set for 7:30 p.m.
Seminole Ridge Finishes Strong — The Seminole Ridge High School Hawks (7-3), coached by Chad Chieffalo, had a winning season, but didn't win enough key Class 3M, District 9 games to earn a bid to the state playoffs.
Two of the big wins by Seminole Ridge this past season were its shutout wins against two local rivals: a 27-0 win against Royal Palm Beach High School on Aug. 31 and a season-ending 35-0 win against Wellington High School on Nov. 3.
The best player for Seminole Ridge this past season was junior linebacker/receiver Ty Jackson, who led the defense with 13.9 tackles per game and had a team-high four caused fumbles. Offensively, Jackson had the most touchdown receptions on his team with five. Seminole Ridge's top running back was senior Roberto Venero, who averaged 112.0 yards rushing per game.
Wildcats Continue to Improve — The Royal Palm Beach High School Wildcats (3-7), under the leadership of head coach Chuck Kenyon, are continuing to revive a once-proud football program. The Wildcats finished the season with two consecutive victories. Last year, the team had only two wins.
"We are still trending in the right direction," Kenyon said. "Despite losing some offensive linemen, we have a very good core of guys coming back next year."
As Kenyon looks back on this season, some of the standout players on his team were senior Tommy Tipton, senior Garvan Dorival, junior Landon Earl and freshman Demetrice Rolle.
Tipton was an excellent running back and a strong linebacker on defense. Tipton scored three touchdowns during his team's 41-22 season-ending victory against John I. Leonard High School.
Dorival was one of Royal Palm Beach's top-performing linebackers during the season, while Earl was Royal Palm Beach's quarterback throughout the season. He was also the team's second-leading rusher at 36.3 yards per game.
"Landon was one of our better football players throughout the season," Kenyon said.
Rolle led the Wildcats with four rushing touchdowns this past season.
Wellington's Future Looks Promising — The Wellington High School Wolverines (2-8), under the direction of first-year head coach Ross Pryor, are in the midst of a major rebuilding effort. The team's two wins this season were a 16-15 win over Royal Palm Beach High School on Sept. 14 and a 28-6 win on Oct. 17 against John I. Leonard High School. The team's statistical leaders are all non-seniors. The team's leading rusher was Tyree Pearson, the team's leader in touchdowns scored with 10 was sophomore quarterback Jonathan Paul, and the team's leading tackler at 6.0 tackles per game was Julian Riaboukha.
Berean Never Gives Up — The Berean Christian School Bulldogs, members of the Sunshine State Athletic Conference, started their season with an eight-game losing streak and finished with a two-game winning streak.
Those two wins were SSAC playoff games. The two wins were a 21-0 win over Trinity Prep from Winter Park on Oct. 27, and a 26-22 victory against Cedar Creek Christian from Jacksonville on Nov. 3.