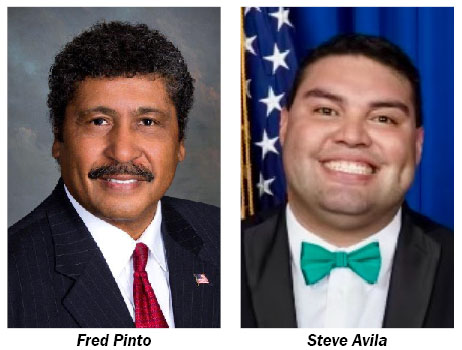 When Royal Palm Beach's qualification deadline closed Nov. 9 for the upcoming municipal election, Councilman Jeff Hmara and Councilwoman Selena Samios secured new, two-year terms without opposition. However, Royal Palm Beach voters will head to the polls in March to choose between incumbent Mayor Fred Pinto and challenger Steve Avila.
The election will be held Tuesday, March 19, concurrently with Florida's presidential primary.
Hmara, first elected to the Group 1 seat in 2012, said he was honored to be granted another term serving village residents. "I want to see through the things we are working on," he said. "We have so many opportunities to continue to shape the future of Royal Palm Beach."
Hmara said he will spend the next two years working to help Royal Palm Beach deal with the growth going on in areas just outside the community, with a particular focus on managing traffic.
"We are going to be challenged to keep pace with that growth and not lose sight of who we are," he said. "How do we deal with that without losing sight of the fact that we are a classic, all-American community?"
Samios, first elected to the Group 3 seat in 2016, said she is honored to be able to represent the residents of Royal Palm Beach for another two years.
"I am proud of the work that we have been able to accomplish over the past two years," she said. "For instance, our expanded senior programs, the addition to the recreation center and the design of Crestwood North Park, as well as our new village web site, just to name a few. I look forward to the next two years. What will Tuttle Royale look like? The possibility of a new school, and increased opportunities for residents and business owners."
Pinto, who was elected mayor in 2016 after serving more than a decade on the council, has not been challenged for the post since 2018.
The incumbent said that he was surprised by Avila's decision to run for mayor.
"I am interested in finding out what he thinks is wrong and needs to be fixed," Pinto said. "Royal Palm Beach is in excellent shape, and I hear only positive feedback from residents all the time."
Pinto said that he has been one of the key people in making sure the village has been moving in the right direction.
"The challenge for us is to continue the standard of excellence that we have maintained and continue to focus on good governance," he said. "We are making plans and implementing strategies that will continue to make Royal Palm Beach a great place to live."
As for the upcoming campaign, Pinto said that he will be running on his long record of community service.
"The accomplishments I have been able to achieve speak for themselves," he said. "I would love the opportunity to continue to serve the people of the village. One of the things I like about the village is that the citizens decide who they want to represent them. I hope they continue to feel that way about me as we go forward."
Pinto's challenger Avila grew up in Royal Palm Beach after moving to the community with his family from New Jersey when he was six years old.
Avila attended Cypress Trails Elementary School and Roosevelt Middle School. He started his high school years at Inlet Grove High School before transferring to Royal Palm Beach High School, graduating at the top of his class in 2007. Along the way, he won a scholarship from the local nonprofit My Brothers/Sisters Keeper and earned fourth place in languages at the Pathfinder Awards.
After high school, he graduated from Dartmouth College with a degree in Romance studies, studying Portuguese and French. In total, Avila speaks seven languages. He lived in China for five years and is part owner of a company based in Shanghai that does college admissions consulting. Avila runs the U.S. side of the operation.
He left China in 2020 right before the pandemic and returned home to Royal Palm Beach. "I grew up in Royal Palm Beach. I have moved back, and even though I have been away, I have always known what is going on. I felt it was my time," Avila said of his decision to run.
His top issue is bringing in term limits for council members in Royal Palm Beach. "You should not be on the council for 12-plus years," he said.
Avila, 34, also noted that none of the current council members grew up in Royal Palm Beach, and he feels that voice is needed.
"I'm young, but I grew up in Royal Palm Beach. I know what's up," he said. "I am a part of this new generation. I would be the first person from the Village of Royal Palm Beach to actually be on the council."
He noted that too many youngsters leave the community for school and never return. "I want to stem that brain drain," Avila said. "We need to keep people in the village and not go elsewhere."
He would like to see more contested village elections.
"At the local level, unless we have a bench, we will not have contested elections," Avila said. "We will have developers with a very large influence on the council. I don't like this."
Locally, Avila serves as vice president of the Dartmouth Club of the Palm Beaches, serves on the board of Hispanic Vote, is a member of the Hispanic Chamber of Commerce and serves as president of the local chapter of the Log Cabin Republicans.
"I bring energy and my generation's voice," Avila said. "I am from here, and a lot of things they say are not actually vibing. I think people on the council need to offer a fresh perspective. I want to bring the relations I have at the state, federal and local level to the village."