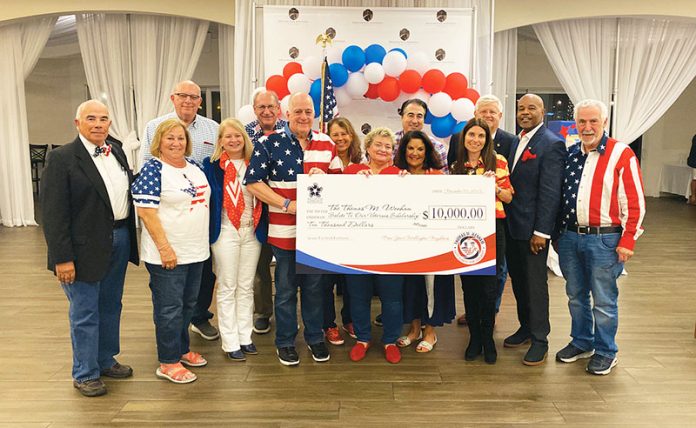 The Wellington Community Foundation held its eighth annual Red, White & Blue Jeans "A Salute To Our Heroes" event on Friday, Nov. 10 at the Wellington National Golf Club to benefit Wellington's veterans, seniors and children in need.
The foundation's mission to help neighbors in need continued with more than 200 attendees at this year's event. Along with honoring all the veterans at the event, this year, the foundation dedicated the evening to the late Tom Wenham, founding member of the foundation and its chair up until his passing last year.
In his honor, the foundation unveiled the "Thomas M. Wenham Salute To Our Veterans Scholarship," which was spearheaded by Mickey Smith, a former foundation director, who raised more than $10,000 to kick off this new scholarship program in Wenham's name. These funds, along with the thousands of dollars raised that night, will be used to honor Wenham's service not only through the Wellington Community Foundation's new scholarship, but through all the projects that the foundation is committed to.
The highlight of the night was the Heroes Tribute video produced by the Village of Wellington that encapsulated Wenham's service to not only Wellington, but the nation. The night was filled with touching ceremonial moments, which honored not only all the veterans in attendance, but also those who did not make it home.
The foundation continues to support and improve the quality of life for some of Wellington's most vulnerable residents by providing food, home repairs for seniors, school uniforms, backpacks, camp programs, equestrian programs for special needs students, school grants, college scholarships, as well as packages that include socks, underwear, sneakers and an age-appropriate gift for children to open on Christmas morning, many of whom would go without if not for the help of their neighbors.
Among the event's supporters were foundation directors, elected officials, community partners and this year's sponsors, which include Wellington Regional Medical Center; Seacoast Bank; Diamante Farms; Medicare Maggie; Dr. & Mrs. Gordon Johnson; Mr. & Mrs. Jim Sackett; Gauger for Sheriff; Frank & Herta Suess; Lesser, Lesser, Landy & Smith; Antuña for Council; Wellington The Magazine; and the Town-Crier newspaper.
A very special guest of honor, Regis Wenham, sat among dozens of her late husband Tom Wenham's friends from American Legion Post 390's "In Memoriam" tables. These tables have always been sponsored by Tom and Regis Wenham, since the event's inception eight years ago. This year, the foundation wanted to be sure those tables remain in his honor. The event's Ruby Sponsor, Wellington Regional Medical Center, sponsored all four tables, to ensure that all those service men and women were at the Salute To Our Heroes event dedicated to Wenham.
For additional information about the foundation and how you can become involved, visit www.wellingtoncommunityfoundation.org.