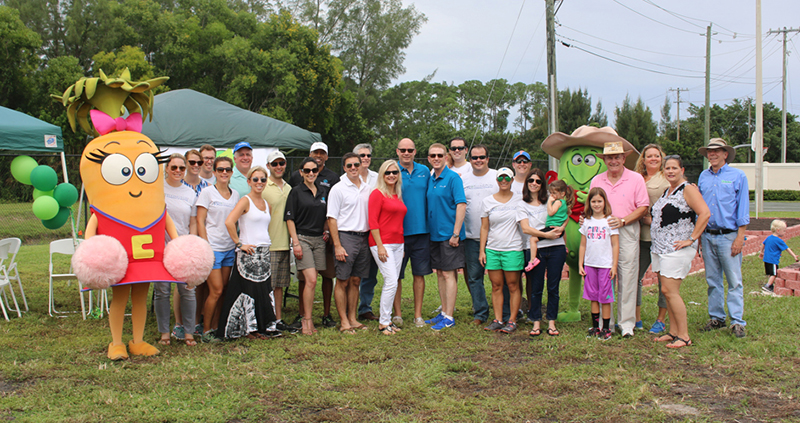 The Neil S. Hirsch Family Boys & Girls Club of Wellington is growing — and what's growing there is edible.
Children at the club will be growing fruits and vegetables in the club's four new garden beds with the help and guidance of the Growums program.
On Saturday, Oct. 1, the club held an open house where children and their families enjoyed basketball and snacks as the new vegetable and herb garden was unveiled.
Aside from Growums, the garden was made possible with support from the Young Professionals of Wellington, the Village of Wellington, H&J Contracting, Oldcastle Coastal, Ultima Fitness & Wellness and Allied Trucking of the Palm Beaches.
Jessica Merrell, representing both Ultima and the Young Professionals, was proud to help get the garden underway.
"At the Young Professionals of Wellington, we wanted to get our hands dirty — apparently, quite literally — with what we give back to the community," Merrell said. "I think it was not coincidental and perhaps a little bit of fate that at the same time that we were looking to do a community garden initiative, that [Boys & Girls Club Director] Kenda [Peterson] showed up to one of our events. We started chit-chatting about what we had lined up for the year and what she was looking to accomplish. The Boys & Girls Club, in fact, was also looking to build a garden… From there, it kind of took off."
Growums donated the seeds and is providing support and help to the garden. H&J Contracting donated the soil, and Oldcastle Coastal donated the pavers, which arrived Friday morning — 22,000 pounds of bricks — just in time for the unveiling.
Ultima is partnering with the club on its healthy lifestyles program, where Ultima will bring programming to the club to help the children learn about leading a healthy lifestyle.
"We're really excited to be a part of the Boys & Girls Club healthy lifestyles program," Merrell said. "We've been in the community for a long time helping to promote healthy lifestyles, so to have a partner in the Boys & Girls Club, to start it from the youngest generation of our community, is great. We're excited for what the partnership will become."
Peterson is looking forward to what the program, along with the garden, will evolve into.
"The kids want to learn how to do yoga, how to do stretching," she said. "I think it's going to become a good year of healthy lifestyles."
Peterson is looking forward to planting the seedlings in the garden by type, be it the pizza garden with tomato and basil, the stir fry garden, the taco garden or the ratatouille garden — all centered on themes — that will be used for recipes.
The children will weed, take care of the plants, and learn how to pick their crops, implementing the healthy lifestyles in their own homes.
Community businesses are welcome to help teach the children, such as restaurants showing how the garden ingredients can be used to make a meal or how vegetables can be a good snack. "We're one of the few Boys & Girls Clubs, because of where we're located, that don't get free and reduced lunch," Peterson said. "So, this is that much more important to me because the children need food. A lot of them are here until 8 p.m."
For Wellington Mayor Anne Gerwig, allowing the garden to double as a lesson is a benefit she's looking forward to observing.
"It's exciting for me because the kids can see where the food comes from, how much work goes into it and how hard it is to actually walk it all the way through the process," Gerwig said.
Participants will learn from Growums, which has a set program to teach children how to garden. It is an education-oriented program with animated characters that help teach children how to become successful gardeners.
"A first-class animated video lesson delivered every 10 days tells the kids what to do. The characters will teach the kids how to germinate, how to transplant, how to feed, how to water and how to prune, all in timely 10-day segments," John Campbell of Growums said. "It's a cool program, and we're happy to be involved in the Village of Wellington and the Boys & Girls Club to educate the kids in gardening."
Meghan Whitten from H&J Contracting, who is also on the club's board of directors, provided the necessary soil.
"When they brought up doing a community garden, I was more than happy to help donate the soil and get it here," she said. "It's part of our everyday business, and just one more way to get involved. We're located in Wellington, I'm born and raised in Wellington, and we like to help out the community the best we can."
As all of the supplies came together, Campbell was impressed with how Wellington officials and staff worked together to help make the project a reality.
"The Village of Wellington has gone over the top. They've gone far beyond expectations. Jim Barnes and José Sanchez should be commended. This whole thing would not have come together without them," he said.
Community businesses that would like to help with educating club members should e-mail info@ypwellington.com or visit www.ypwellington.com.