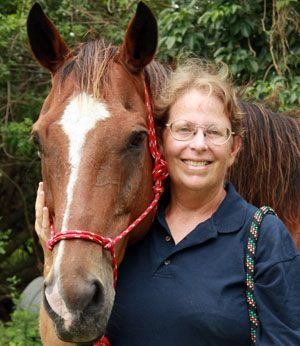 TALES FROM THE TRAILS
What could be better than doing something you love while simultaneously helping the community? That's what co-founders Jesse James, Taylor Lamerson, Miranda Doherty and Kayla O'Brien set out to do when they started the J.C. Western Cowgirls about six years ago.
"We were friends, and we started riding together," Taylor recalled. "We decided we also wanted to be able to do more beyond the usual shows, competitions and drill team stuff. Our goal was to have fun together with our horses while giving back to the community."
"Jesse's dad, Charlie James, became our trainer," Miranda said. "He helped us bring the group together and also helped us improve our riding. Gradually, others showed an interest in joining us."
"We made it so people could join no matter what level they were riding at," Jesse said. "We wanted to make it like we had open arms for people and horses, with or without a lot of experience, so everyone could ride and learn together. Those with more experience could help teach those with less."
They gained a sponsor one day when shopping at J.C. Western Wear on Military Trail in West Palm Beach. The owner, Sam Spector, noticed them coming in regularly, and they became friends.
"He liked what we were doing and wanted to help us out," Jesse recalled. "We were volunteering for community events with groups like the Boys & Girls Club, the Humane Society, Toys for Tots, Nature Speaks and the Joe DiMaggio Children's Hospital. Sometimes we brought some of the horses and either did a demo ride, program or gave pony rides. Other times, we showed up without the horses to help however we could. I think my favorite event that we participate in is going to the Joe DiMaggio Children's Hospital at Christmas time, dressed up like elves, and sitting and talking with the sick kids.
The team has a large support system of parents, families and friends to help them out.
"Right now we have about 14 riding members and 15 to 20 helping members, some as far away as Key West and southern Georgia," Jesse added. "If we're doing a big event near them, they join us. We've also done photo shoots and a mounted shooting demo at the St. Lucie County Fairgrounds in conjunction with Florida Sportsman magazine. Our routines may involve flag-honoring ceremonies, jousting, some jumping and dressage, trick riding, mounted games — anything someone in our group wants to try. We also enjoy involving the audience, especially kids, in our routines."
Other sponsors include Ariat Boots, the Country Store, Florida Sportsman magazine, Florida Local and Florida Belles. The group's ages range from 5 to adult, and currently they have a waiting list of more people eager to join. They're trying to keep the group relatively small and manageable.
"Being involved with this group and helping people really warms our hearts," Taylor said. "There's nothing like making someone's day brighter. I also love working with Mr. Charlie to improve my riding and become a better equestrienne, and then passing that along to others. There's a lot of give-and-take, with no egos involved. It's about sharing and having a good time, not chasing ribbons."
The group meets every Sunday at 6:30 p.m. at various local venues, including the Jim Brandon Equestrian Center and the Nicole Hornstein Equestrian Park, or at a member's house who has an arena large enough for the practice. Before a big event, they may meet more often. Every year at Halloween, they participate in Spookyville at Yesteryear Village, and also at the events in Yesteryear Village during the South Florida Fair.
Group members try to coordinate their vacations. They've done road trips with their horses to Monticello, near Tallahassee, to attend a ranch rodeo camp, and made other trips to Manatee Springs, the beach and Wolf Lake. A couple of summers, they helped trainer Jerry Monday work with 14 young Paso Finos.
"I enjoy working with the girls, mentoring them, not just in riding but in life lessons," trainer Charlie James said. "It's a fantastic group, and they're always willing to help out wherever they can."
Kayla O'Brien has been with the team for five years. "My riding has improved, and I've made many friends," she said. "This is like a second family. We're all here for each other and our horses."
Ashlea Santa Maria has been a member for three years. "Riding was always a passion of mine," she said. "Being on this team is a blessing. One of my favorite things is working with and riding the different horses and helping everyone improve their riding skills. When I started out, I had a mare. Then I switched to Uno, my gelding, and he's much more challenging. My mare was spirited, so she was easy. He's stubborn, so it takes a lot more effort, but I love putting in the work. But it goes a lot deeper than that, helping out in the community. Seeing little kids' faces light up — that's the greatest. Being in this group is the most amazing thing that's happened to me so far in my life. I'm thrilled to be a part of it."
For more info., visit their Facebook page at www.facebook.com/pages/JC-Cowgirls/318614818227631.