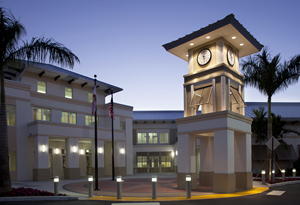 About 70 people showed up at the Wellington Village Council meeting Tuesday where, after several hours of discussion, the council gave final approval to the nine-lot Winding Trails residential project to be built on the former Wanderers Club executive golf course.
The equestrian-oriented community proposed by W&W Equestrian Club LLC, owned by Jim Ward and Patricia Holloway of Ward Real Estate, passed its preliminary reading in September on a 4-1 vote.
At the time, council members encouraged the developer to continue meeting with residents, who were divided for and against the project, during the months that it took for the project to get its necessary state approvals and then return for its final hearing.
The nine equestrian-oriented residential lots of 2.3 to 4.45 acres each are situated on the former nine-hole golf course in the area of Aero Club Drive and Greenbriar Blvd., with a horse crossing connecting to the showgrounds at Ousley Farms Road and Greenbriar. The project winds around the Lakefield South neighborhood, whose residents were divided about the proposal.
The developers said they had met again with Lakefield South residents and were able to garner more support, with 95 supporting, 44 opposed, six not responding and two undecided.
Associate Planner Kelly Ferraiolo said the developer had addressed objections raised regarding driveway ingress and egress of large trucks by increasing the turning radius, developing a plan to see that trucks are not left on Aero Club Drive waiting for gates to open, reducing the number of stalls from 12 to 10 per lot for a total of 90, and allowing only four rental stalls per lot.
Staff also added a condition that prohibits deliveries by trucks 40 feet or longer during school hours.
Holloway said she and other representatives had spent the past three months talking to residents to ease or mitigate their concerns. They had also devised other plans, which included townhomes on the property if the Winding Trails project was not approved.
"My father and I both live near the site," she said. "We want conscientious development. Please understand that we have gone to great lengths and have garnered an overwhelming amount of support."
Winding Trails agent Donaldson Hearing said there has been a great deal of community outreach, with many meetings and phone calls where they responded to community concerns with multiple site and landscape plan updates.
"Some wanted buffering and others wanted to see the horses," Hearing said. "We almost doubled the amount of support compared to what we had before."
The nine residences will be limited to two stories, with a barn below and living space above.
Hearing said the expansion of the lakes will enhance safety and security for Lakefield South residents. "There will be 75 more homes on lakes than exist today," he said, adding that the commitments are not just incorporated into the development order but into a restrictive covenant.
Hearing said many Lakefield South residents liked the rental stall concept that will allow people who cannot afford a barn to keep a horse near their homes. "We think it's to their benefit, but we'll leave that up to you," he told council members.
Traffic engineer Robert Rennebaum, representing the developer, said driveway turn radii had been widened in response to some Lakefield South residents' concerns about safety for local schoolchildren who wait at bus stops on Aero Club Drive, and pointed out that long trucks come primarily at the beginning and end of the equestrian season to drop off horses or pick them up.
"Number one is safety," he said. "This was done in an abundance of caution. They all meet standards [to turn] without leaving the pavement."
Also, he said, entrances for three lots had been extended to accommodate truck parking in the event that that they could not get into their delivery or pickup destinations immediately.
Additional traffic analysis had been done with results that assure the project is well below the requirements of all county and village performance standards.
Hearing pointed out that the project, which was transmitted to state agencies, met all standards of the local and state comp plans with no comments. "We believe the process has worked," he said.
Councilman Michael Drahos asked about maintenance of horse droppings on the bridle trails, and Hearing said they will take care of everyday maintenance.
Drahos also asked about keeping bus stops and children on the west side of Aero Club Drive, away from the driveways, and Senior Planner Cory Lyn Cramer said staff had been able to establish a dialogue with the school district to address that.
"We're hoping that now that we have open dialogue, we can facilitate this," Cramer said.
Councilman Michael Napoleone asked about possible truck stacking issues, and Village Attorney Laurie Cohen said that Palm Beach County Sheriff's Office deputies could enforce stacking, adding that the gates will be key-coded so trucks could enter the lots immediately.
Councilman John McGovern asked about issues that had been raised about lights in the proximity of the Aero Club runway, and Growth Management Director Robert Basehart said lighting will fall under the Wellington lighting code's restrictions on light overflow from property, and that directional baffling would be required.
Adam Mirsky, who lives on Country Golf Drive, said the Winding Trails project is what Wellington is all about.
"It will give security that is long overdue, and the opportunity to rent stalls," Mirsky said. "I believe this project provides the least impact."
He added that objections raised, including picking up and dropping off kids and truck deliveries, have nothing to do with Winding Trails but with Lakefield South residents who had grown accustomed to having additional property next to their back yards.
Pilot Steven Daiagi, an Aero Club resident, supported the project. "I probably fly the most in Aero Club," he said. "I believe this project will have zero effect to the pilots."
He added that the currently vacant property is used by motorcyclists and off-road vehicles.
"The property is used improperly," Daiagi said. "It's really an eyesore. It might not be this board, but somewhere down the line, it's going to be turned into something, in this case nine homes, and what I want to see is horses."
The council approved all the related Winding Trails comp plan, land use and zoning ordinances and resolutions 5-0.