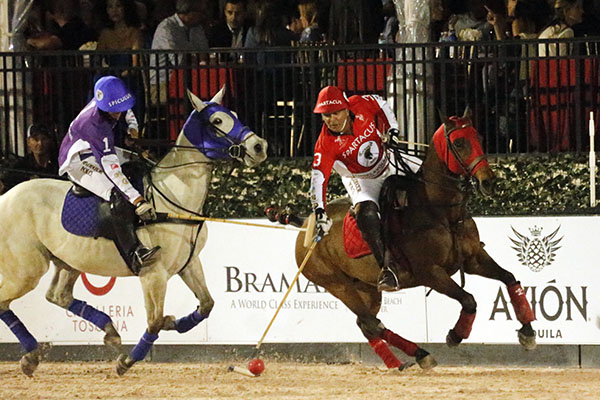 Gladiator Polo, presented by U.S. Polo Assn., a new-to-Wellington special arena polo event taking place at the Adequan Global Dressage Festival arena, is taking the polo community, and the rest of Wellington, by storm.
Gladiators ride through the ring. Polo ponies and their riders race around the arena. The delicious smells of an authentic Asado wafts through the VIP area. The crowd cheers for its favorite team.
It's an exciting and eventful, free and open to the public extravaganza with three more preliminary rounds on March 10, 16 and 31, before the final on April 8.
On Friday, March 10, the fourth game, the $33,500 Crixus vs. Priscus match will take place, with gates opening at 6 p.m. and the game starting at 7 p.m. and running to approximately 8:30 p.m. Team Crixus, sponsored by U.S. Trust Bank of America Private Wealth Management, includes players Matias Magrini, Santi Torres and Mike Azzaro. Team Priscus, sponsored by Richard Schechter and Bainbridge Companies, features Jeff Hall, Jeff Blake and Julio Arellano.
"Gladiator Polo is an event everyone can enjoy — from families who sit together and root for their favorite teams to couples who stay for the after-party," said Mark Bellissimo, managing partner of the International Equestrian Group and organizer of the event.
The Gladiator Polo craze started Thursday, Jan. 26 when residents and polo enthusiasts packed the arena, enjoyed the Asado and saw the first game. Riders fly through the arena, which is only 150 feet by 300 feet — much smaller than grass polo, where players gallop across an open field the size of nine football fields.
The action is condensed into a small area, making every move more impactful and more dramatic. Polo players typically learn in the arena, and then choose to play either in arena polo or field polo.
Some of the top polo players in the world have been attracted to Gladiator Polo in Wellington.
Sebastian Merlos of Argentina, who has won every major tournament in 18 countries, competes on the Spiculus team.
"It's exciting and very physical. You have to think every minute. Plays happen much faster than on grass because you're playing on a smaller surface, and you're surrounded by walls," Merlos said.
Arena polo legend Tommy Biddle plays on the Spartacus team. "I wanted to play hockey as a kid, but where I grew up [in South Carolina], there was no ice. Arena polo was the closest thing I could get to it," he said.
At the entrance to the showgrounds, spectators can visit two simulators made by Racewood Equestrian Simulators.
"People love the simulators, and it's a great way to introduce the public to riding," Bellissimo said. "Whatever type of riding interests you — dressage, jumping or polo — you can learn on the simulator. It brings the various disciplines together at one location, and it's a far more affordable way to learn than buying your own horse right away."
World-class trainer and instructor Barbro Ask-Upmark, from Sweden, is a chief instructor and assisted in the nuances of the simulator. United States Polo Association member and simulator instructor Gates Gridley is thrilled with the polo simulator.
"I really liked the concept of it, and I liked how it could be used as a tool," Gridley said. "The first night that we held Gladiator Polo, I ran the simulator and had a crowd of 20 people the entire night trying to get on it. They were really liking it. It was a huge hit."
The interactive simulators allow those who aren't equestrians to get a feel for riding.
Well-known, world-famous riders have tried it and enjoyed the experience. It's a tool for both amateurs and professionals, working on hand-eye coordination and the mechanics, Gridley said, and many have asked for information about buying a simulator for their polo club to utilize.
"High-level riders and professional polo players also use the simulators to improve their skills. The simulators are suited to all levels of riders, from beginner to advanced," Bellissimo said, stressing the versatility of the simulators.
Ask-Upmark, who has worked for Racewood and taught on its simulators for 11 years, worked with the company to improve the simulator from a rider's point of view.
"This is the first time ever a simulator has been made that can do both dressage, up to Grand Prix, cross-country jumps and show-jumping jumps, and all realistic. This new simulator moves with hydraulics, and there are no limitations," Ask-Upmark said. "This gave us totally new possibilities with this simulator."
Bellissimo also has a simulator at the Tryon International Equestrian Center named "Tryon Maximus." The dressage/jumping simulator in Wellington is named "Dante Maximus."
Ask-Upmark teaches on both of the simulators, showing riders and those just learning how to use them.
Palm Beach Riding Academy trainer Jessica Nichols has seen great strides with her students as they utilize the simulator.
Nichols has enjoyed training her younger students, and has received interest from her adult students regarding the simulator.
"I think it's a fantastic teaching tool, in addition to what we're doing here at the academy, in addition to our live string of horses and ponies," she said, explaining that it helps address how students work through their transitions, how they sit in the saddle and how they hold the reins. "I can go up to them and physically manipulate their position to where they should be, which I can't do if they're on a live horse."
For students who struggle with nerves or anxiety, learning on the simulator allows them to get more comfortable with different gaits and jumping.
"I think it's a really neat and great opportunity for us to have that in addition to our program," Nichols said. "I'm excited to see where it can go."
For more information, visit www.gladiatorpolo.com.
ABOVE: Gladiator Polo players Juan Martin Zubia and Tommy Biddle battle for the ball as spectators get an up-close view. PHOTO BY DAVID LOMINSKA