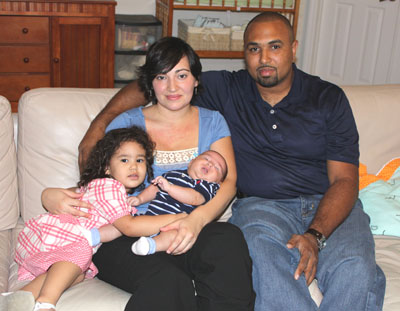 Royal Palm Beach resident Gia Caiozzo-Gilchrist and her baby boy Mateo Gilchrist beat the odds when both survived a rare and often fatal condition known as an amniotic fluid embolism while the mother was in labor at Palms West Hospital.
"I believe that God saved my life," Caiozzo-Gilchrist said. "He put the right people there to save my life."
An amniotic fluid embolism is an obstetric condition that can occur when the mother's water breaks, or during or shortly after labor.
Although doctors don't fully understand the condition, it is believed that amniotic fluid, hair or fetal cells enter the mother's bloodstream and trigger an allergic reaction. This can cause respiratory distress, a drop in blood pressure and/or shock, said Dr. Andrea Bayer, who is Caiozzo-Gilchrist's obstetrician.
"What happens is typical with a horrible allergic reaction," Bayer said.
The condition occurs at the rate of 1 in 8,000 to 30,000 pregnancies, and is so rare that most doctors will never see one, Bayer said. This was the first case Bayer had seen.
There is an 80-percent mortality rate, and although doctors collect information about each patient, the survival rate is so low that it is hard to study the condition and why it occurs, Bayer said. Additionally, there can be long-lasting neurological effects.
"I had no clue that there was such a thing," Caiozzo-Gilchrist said, adding that her first pregnancy with now two-year-old daughter Liana Gilchrist had been a normal delivery.
But with Mateo, the pregnancy was difficult from the start.
"I started throwing up the day after I found out I was pregnant and it lasted for 30 weeks," she said. "I just thought it was normal in the beginning. No one ever said there was anything wrong with it."
Six months into the pregnancy, Caiozzo-Gilchrist said she began experiencing soreness and swelling on her stomach and a lot of pain. When she was 39 weeks and two days into her pregnancy, Bayer suggested inducing labor. The original due date was Easter Sunday, April 4.
Even though the two pregnancies were so different, Bayer said that it wasn't an indication of an amniotic fluid embolism. A pathology test of Caiozzo-Gilchrist's afterbirth also came back clear.
"There's no specific symptoms," Bayer said, adding that some mothers have suffered from an amniotic fluid embolism after having a miscarriage or during a C-section.
Caiozzo-Gilchrist said she was nervous about inducing labor and worried whether the baby would be healthy. "That whole weekend I had an uneasy feeling," she said.
Ultimately she decided it would be best to induce labor at the hospital, a decision she thinks may have saved her life.
"The research that I've done on my own said that, if it was to happen, it could have happened when my water broke on its own," Caiozzo-Gilchrist said. "If that would have happened at home, I probably would have had a 100-percent chance of losing my baby and losing my life. The way I look at it at this point is I believe in God, and he put me in the situation that I was in for a reason. He put the right people there to save my life."
Bayer agreed, and said that had Caiozzo-Gilchrist opted for a home birth, she probably wouldn't be alive today.
At 8 p.m. on Tuesday, March 30, Caiozzo-Gilchrist checked into Palms West Hospital. But she remembers little of the night. "I remember showing up, and I remember them putting me into the room," she said.
When she woke up, she was told that around 9 p.m., Bayer came in to break her water. Soon after Bayer left the room, Caiozzo-Gilchrist's husband Horace Gilchrist said he could tell something wasn't right.
"All of a sudden she looked at me and her eyes just opened like sunshine and she said, 'I can't breathe,'" he recalled. "My initial reaction was, 'Calm down, relax, don't panic, it's a normal procedure.' But she said to call the nurse. The last thing she said to me before she went out was, 'Call the nurse,' and she just fell back."
He said that it seemed like only seconds after she had gone out before the nurses "kicked the door in" and people began to flood inside.
Bayer said that although she wasn't sure, she suspected it could be an amniotic fluid embolism that caused Caiozzo-Gilchrist to pass out.
"I was pretty suspicious," Bayer said. "There are a limited number of things that could cause her to stop breathing. During an emergency, you run through all the possible conditions in your mind that could be the cause."
Bayer said that when she got there, it was a "devastating" situation. Caiozzo-Gilchrist had no blood pressure and no pulse. Immediately, Bayer began working on resuscitation.
Horace Gilchrist said that even though doctors suggested he leave, he remained in the room. "I was doing a lot of praying to God," he said. "All I knew was that I couldn't talk to my wife. I kept calling out for her, telling her 'I'm here.' It was surreal. It was like a bad dream."
He remarked on how calm Bayer remained through the entire process and as she told doctors that they had to perform a C-section.
"And just like that, I saw purple," he recalled. "I couldn't believe it. She pulled the baby out, but he wasn't making any noise; he wasn't crying."
Bayer said that Mateo also had to be resuscitated because when Caiozzo-Gilchrist stopped breathing, it cut off the blood flow.
The entire Palms West Hospital community, from ER doctors to lactation consultants, jumped in to help save their lives.
"I saw a lactation specialist jump in and start doing CPR," Bayer said. "I later found out she was an old ICU [intensive care unit] nurse. So many people came running to help."
Caiozzo-Gilchrist awoke four days later on Easter Sunday. "Which I truly believe is a miracle," she said.
It was apparent how many people had cared for her while she was out, Caiozzo-Gilchrist said.
"When I woke up, doctors and nurses from all different departments… were like 'Wow you're alive. Good to see you awake,'" she said. "They said that on the fourth floor, in maternity, you don't have cardiac arrests. I was in a room that was not equipped to save someone's life."
Caiozzo-Gilchrist attributes the fact she's alive to God and the Palms West Hospital staff, in particular Bayer, Gwen Johnson, Marie Previlus and Shearan Shippey.
Now two months later, Caiozzo-Gilchrist said there are still many unanswered questions about amniotic fluid embolisms. She hopes to start a fund to research the condition and how it can be prevented, or at least detected.
Still on medication, Caiozzo-Gilchrist is also waiting to see if there is any lasting neurological damage on either her or Mateo. However, the experience changed her for the better.
"I've always been a person of faith," she said. "I've always believed in him and to always do the right thing and treat people with respect. But now that I'm awake, I'm actually awake. When I'm outside I hear the birds singing, the crickets at night — I hear them. Before, I was so focused on something else. Now I'm living."
ABOVE: Gia Caiozzo-Gilchrist with Horace, Liana and Mateo Gilchrist.