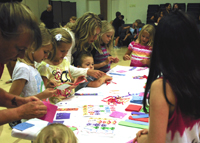 The Wellington Christian School Parent Teacher Fellowship welcomed new and returning families to a new school year Friday, Sept. 9 with its third annual All-Campus Back-to-School Bash.
Schools such as WCS, which include a community of students ranging from PK3 through grade 12, are always challenged to find activities and events that will be of interest to all families on campus. But Wellington Christian School's PTF views the events as opportunities for fellowship where activities and involvement can be geared to provide something for every student, family and faculty member.
An ice cream social is great for all, providing a treat enjoyed by young and old, service opportunities for older students, and a fellowship opportunity for parents.
Fellowship opportunities are an important aspect of WCS. While academics are the top priority for a school, academics in a Christian environment, with a community of families where families come together to support its students, helps the school impact the whole child, heart and mind. With all the challenges that young people are presented with, WCS views these community connections as important as academics.
In addition to fellowship and treats, the evening included activities and raffles. Event Chair Nathalie Drahos was grateful for the many sponsors who helped make this event such a huge success. "WCS looks to partner with and support local businesses," she said. "For this event, we thank Orange Leaf, a new Lake Worth frozen yogurt shop, Friendly's, SynaptiqLife, Publix and Costco for their support of the students and education of WCS. Face painting was also provided by Henny Bulten."
Located at 1000 Wellington Trace, Wellington Christian School is a fully accredited Christian school established in 1981. The school offers regular tours of the campus for interested families. For more information, call the school at (561) 793-1017.
Above: PTF members and children work on creating arts and crafts.